"Living Joyfully" is a special newsletter packed with ideas and stories designed to re-orient your life toward JOY, and what it takes to live a life of Joy, right in the middle of all the grief and annoyance, all the topsy-turvy ups and downs we all face. It IS possible!

To enjoy the "Living Joyfully" newsletter delivered to your inbox each week, fill in the form at the bottom of this page and you'll receive a free gift as a special thank-you.
"When you Just Don't Have the Energy"
By Erin M Menut, July 10, 2022
Would you like to listen to today's story? Click the link below to listen:
Have you ever felt like there was something you were drawn to do, but another part of you felt like you just didn't have the energy?

I think we've all felt that way at times. During covid especially, when I thought ahead to certain things I wanted to do, I felt daunted and drained just thinking about it. I didn't dare to take it on – because I felt like – I just don't have the energy.

At times like this, it's so easy to layer over that feeling of low energy with a sense of disappointment in ourselves, even shame.

As one of my teachers recently said, "shame is so readily available in our culture. Watch out when you feel it drawing you in."

There is a lot of pressure to be "up" all the time, and be ready for anything. Be superwoman. Or superman. Even a simple, beautiful, natural thing, like rest, is readily interpreted in the overculture as weakness.

So, when we "don't have the energy," there can be a lot of layers of heaviness imposed on us, from inside ourselves and from outside in the culture.

Because of this unhelpful pressure, first and foremost, I want to encourage us to simply respect the legitimate feeling. Unique circumstances aside, it can be a genuine response to the overload of news we get bombarded with in the culture.

From that place of respect, I also want to invite curiosity.

What if it's possible that there is a deeper wisdom at work when we feel that sense of 'not having the energy?'

In my work as a Jin Shin Jyutsu practitioner, I connect directly with the energy system of the body. We all know that there is more to our being than the material body. There is an animating force that flows through us. Whether you call it prana, life force, electromagnetic energy, Chi or Ki, it is readily apparent when you yourself feel that energy strong in you and when you don't.

You can even *see* this energy in your pet and your house plants.

Sometimes there's a lot of vibrancy and energy and sometimes there isn't. When you see your house plant drooping, what do you usually say?

"Oh you pathetic plant. Why can't you have the energy to spread your leaves out. It's easy. It's a beautiful day. The other plants are just fine. They're doing it. Why are you just sitting there in your pot!"

I would venture to guess, this is not at all what you say when you see your house plant wilting.

Instead, I'm willing to bet you recognize right away that it needs something.

I think you're compassionate with your house plant. Am I wrong?

Our bodies are a little more complex, but in essence and energy not all that different.

Sometimes it's true, we just need something. Some vitamins. Nutrients. Water. Rest. A heartfelt chat with a good friend. Some gentle exercise to raise our energy back up.

Sometimes, however, it's really a different need. And that's what I want to invite our curiosity about today.

In Jin Shin Jyutsu, when our energy shuts down in some way, this can be a signal that something needs to stop – or shift – or change. That something isn't safe, energetically. It's like an internal guidance system.

When I was a kid, one of my favorite stories was Black Beauty. In one episode, this magnificent horse was pulling a carriage bringing a doctor to someone who desperately needed help. On the return journey, late at night, she stopped in the dark. Refused to go any further. Not even one step. Despite the urging and irritation of the driver, she would not budge. He even whipped her. Finally, he recognized something was wrong. When he stepped out of the carriage and looked around with his lantern, he realized that the bridge was out. Black Beauty had known – she stopped and refused to move – and that saved his life.

Our bodies are the same way, even if our minds are like the driver at times. Our inner wisdom steps in to stop us if we are going in the wrong direction. It will stop us firmly at times if we really need to rest.

This is a deep inner wisdom that we would do well to honor.

And the only way to know if that is what's happening is to shine a light within. To be curious.

Do I not have the energy because I need something? Water? Rest? Nourishment? Connection? A helping hand?

Or do I not have the energy because the path ahead is not my path? At least not now. Maybe the bridge is out, and the timing just isn't right. Maybe what I thought I wanted… isn't what I need now, and deep down my body knows, when I truly stop to listen.

A deep respect for any answer – the one that rings true for you – and for staying curious.

With love,

Erin

Feeling low energy & curious about what support might look like? Interested in sharing a comment or a story of your own that relates? I am here for you & would love to connect.  Email Erin@Radiantenergyforlife.com to share your story, or click here to learn about coaching options.
Boundaries – Key to an Empowered Life      
Setting boundaries takes courage.
None of us want to disappoint others. It is no fun feeling that sensation coming back to us. Facing up to others and setting a boundary can be especially difficult and uncomfortable for those of us who are empathic, and who feel the emotions of others deeply.
Daring to set a boundary often puts us in a position where we may disappoint others, at least momentarily. But refusing to set a boundary can push us into overwhelm and resentment – in that place, we are likely to disappoint even more people, especially ourselves.
Often, it is our own self-care that we sacrifice when we refuse to set a boundary – taking on too much in order to please others.
In its essence, an appropriate boundary is simply the space you need in order to feel safe, connected and respected.
Having the courage to say, "no, I can't take that on right now," or even, "could you step back a little please," can be a way of actively practicing self love. When we remember self-love, and take time for self-care, we are more available to support others in the ways that make the most sense to us. This requires saying no at times, and setting limits with others.
Setting boundaries takes commitment.
Brene Brown urges us, "choose discomfort over resentment." Often when we're feeling resentment, this points us back to places where we did not set a boundary, or when a boundary needs to be reasserted.
When we choose not to establish or enforce a boundary, we open ourselves up to ever greater self sacrifices and an ever greater load of resentment. This darkens the heart. It can take a lot of energy to set and maintain a boundary, especially with a person who is accustomed to getting their way with us.  
Setting a boundary can feel uncomfortable and vulnerable, especially at first.   
The good news:
it get easier every time you practice. (And there are great ways of practicing this, both verbally, and through embodied
learning with horses
.) When others see and feel that you are committed to your boundary, they spend less and less time trying to push you over.
This is so liberating and empowering!!!
The end result: daring to face the discomfort of setting clear and appropriate boundaries makes all of your relationships better in the long run. 
Namaste,
Erin
A Toast to "Bad" Choices, "Wrong" Turns and Leaning into the Sharp Points
Have you ever made a mistake?
A choice that you look back on and wish you had never made?
Sometimes it's something really simple and mundane – a little thing, really – you're shopping a sale, and you find something that's not exactly the right shade, but you buy it anyway, because, well, it's such a good deal.
Some of us do that in other, more significant moments of our lives too. We make a choice in our personal or professional lives thinking, this will be easier – even though, deep down in our bones we know that it isn't exactly right, that there's something kind of iffy and corner-cutting about it.
(By the way, our bones represent that part of ourselves that is indestructible. If you don't have a habit of listening to yours, I urge you to start.)
By listening, often we can tell beforehand when we're on the bring of a "wrong" turn. But often times, we move through life half asleep, or maybe a little bit more than half asleep, especially at first. It can feel painful to come awake, to recognize the power of each choice we make. And if we miss the signs, in advance, the great Yoga teacher, TVK Desikachar tells us that we can discover we've made a bad choice if it brings suffering. Then we can look back and know. (Are you feeling the warm fuzzies yet?)
In spite of my personal "no regrets" policy, I admit that I sometimes look back and wonder: What if I had chosen differently? Or I think, if only I had been more aware, maybe I could have avoided some painful things. And in spite of feeling truly, (truly!) grateful for all I've learned from every "wrong" turn, I still have lain awake and wished I could have been smarter, or more on top of my game, at certain critical moments, ones that brought suffering.
But I learned something true recently, and I want to share it with you, because now I think about this differently. I was reading in Clarissa Pinkola Estes' Women who Run with the Wolves, and her words of wisdom jumped out at me:
Every woman makes a "bad bargain" at some point in her life. (And, I suspect, every man as well.)
A "bad bargain" – a wrong turn, a "bad" choice – is part of the process of initiation into a higher level of awakening.
Let that sink in for a moment. A "bad bargain" is part of the process of initiation into a higher level of understanding, awakening, awareness.
It's not that, "gosh, I made a wrong choice and I'm glad I learned from it but if only I had been smarter I could have avoided it all."
No. No. Nope.
It had to happen. And if it hadn't been that choice, it would have been another. Because life's suffering comes along to knock us awake.
Clarissa Pinkola Estes calls such suffering, "the initiation we wish we never had."
Desikachar calls it, the movement from avidya (not seeing) to vidya (clear seeing).
In cultures that still have a process of initiation into adulthood, the elders help the younger ones make this transition into greater awareness, without so much suffering. Most of us don't have that safety net.
As children, we deserve time to play and doze, and feel safe and protected, half awake, and half asleep. I love being the mama for my children, and giving them the gift of such time, as much as I possibly can. That's a life of joy for someone that age. But for a grown up person, who seeks to live a life of joy very consciously, the "bad" choice, the "bad bargain," the "initiation we wish we never had," comes along for all of us an essential part of the journey. If we spend all of our time trying to avoid the wrong turns by never choosing anything, thus giving our power away, or wallowing in regret over the "bad" choices we did make, then we have very little time left to live.
Better to lean into the sharp points, lean into the pain of it all, and learn all you can from it. Don't be afraid. Have courage: if you do this, you won't take the same "wrong" turn twice. You can't. You're wiser now. Does it still hurt? Hell yes. But don't treat yourself to the pain without helping yourself to the wisdom too. There's tremendous value in that.
The key is to move forward with as much awareness as you can, keep a sense of humor, and continue to listen to your inner calling, the truth you feel in your bones. It will guide you.
As Joseph Campbell says, "if you can see your path laid out in front of you step by step, you know it's not your path. Your own path you make with every step you take. That's why it's your path." And when you create your own path by walking it, you are going to make "mistakes."
Your own path will feel right, like water flowing toward the sea, but it will not necessarily feel easy, and if you're living and loving with all your heart, it cannot come without suffering.
So count me with Edit Piaf, please: No regrets: Laugh, love, LEARN, LIVE.
Namaste,
Erin Menut, M.A. E-RYT 500
Do you ever feel like you're just running around putting out fires?

Life happens at the speed of, well, life, which can feel pretty fast. So many of us spend a lot of our time reacting to life's circumstances -putting out fires – rather than taking time to step away from the mayhem in order to think creatively about the way we actually want to live.

If you're experiencing a lot of stress, it can feel scary to "take the time" to step off of the front line of reactivity and slow down enough to do some creative envisioning. But deep down you probably know that when you're stressed, that's when you need to step back the most.

Years ago, when I was over the top with my own work-stress-craziness load, one of my best friends made me stop and take a break, and the creative envisioning that came out of that moment changed my life.

That's why I want to share, that when you do take time to slow down, step back, and think creatively about who you want to be, how you want to live, and especially, how you want to show up in the world, you have a much higher chance of manifesting the life you want to live, and in experiencing success on your own terms, than when you're just running around in a state of reaction all the time.

When I'm working with clients in Equine Facilitated Learning, we often do an activity called "Embodying the Goal." In that activity, the participant works in partnership with a horse to accomplish a goal together, with awareness and mutual respect. One of the key steps in the process involves clearly visualizing the end result – the goal – that you want to accomplish.

Visualizing something you want to accomplish is a hugely creative act.
Naturally, envisioning a result you want to accomplish also plays a HUGE role in manifesting the life you want to lead – it's a mindfulness technique I often teach, drawn from Yoga Nidra.
The difference is, that in Equine Facilitated Learning, you're also called upon to embody the goal, to embody the reality you want to manifest. Because the activity calls on you to tap into the wisdom of your body, and to move mindfully, and physically, from that place, the level of empowerment and self confidence you can gain brings you into immediate and intimate relation with your goal. It puts you in touch with the core of your being in a way that teaches you how to move swiftly closer to accomplishing any goal you set your heart to.
Creative envisioning + Embodying is the opposite of Reacting
So today, let's take a moment for ourselves, a long exhale, some breathing room to slow down and simply be. Let's encourage reactivity to take a break, and invite our creative capacity to step forward. Let's remember that we're always in creative partnership with the forces of nature in our lives – other people, other beings (horses if we're lucky), our circumstances, our surroundings. Let's take time to muse creatively about how we want to show up – for our friends, our kids, our selves, how we want to live, who we want to be. Today, let's send that vision out into the world, either simply in the silence of our own minds, or by sharing it with others.
If what you're creatively envisioning seems a million miles away from where you want to be, remember that the longest journey is the one you never take. So why not start today?
With love,
Erin
As I'm gearing up for some exciting work with the horses this fall, I've been thinking a lot about what it feels like to really connect with your soul's purpose.
One of the great things about working with horses is that they will let you know right away if you're incongruent – feeling one way and acting another. For example, if you are feeling discouraged, but trying to put on a brave face, or if you're feeling angry, but trying to act like everything is okay.
Sometimes things are not okay. And horses, like authentic human beings, want to see your real face, not your "game face." When we step toward them, in a state of incongruence, they get spooked. Horses can read incongruence in our body language because it is the way predators approach. Imagine a hungry lion stalking in the grass, thinking, "Nothing to see here! I'm just hanging out in the tall grass (but really, I want to eat you for supper)." Horses know that incongruence is a recipe for danger.
For human beings, there is a time and a place to "fake it until you make it," but there is also a time and place for getting really real with yourself, acknowledging your own feelings, likes and dislikes, dreams and visions for how you want to live, and what you are here on the planet to do. That's what I call, "your soul's purpose."
Life doesn't want you to wait until you feel perfect. You can end up waiting a lifetime. Life wants you to show up as you are.
Becoming congruent on the inside is the first step to connecting your actions with your vision, so that you can make a difference in the world, whether that is as a parent, in your work, or simply (!) in the way you live day to day.
When you start to line up body (actions), mind (thoughts and feelings), and spirit (your soul's calling), it's time to clear the runway, because you are ON your path. There is nothing more exciting than that kind of congruence, that kind of alignment.
When I am working with clients in my Equine Facilitated Learning (EFL) practice, we use a te
chnique called the "body scan" to help us reconnect with our body's wisdom, our instinctual nature. That's the part of us that's like a horse, still a little wild (or a lot wild), still free. It's our built in "truth-o-meter." Our culture often spoon feeds us what we "should" want, or tells us what we "should" dislike, or do, or not do, and when we get overloaded with those messages, it is easy to lose touch with our inner, authentic voice.
Sometimes, we end up not even knowing, "what IS it that I really want to do with this one, wild and precious life?"
Curious and intrigued "not-knowing" is better than ho-hum complacency. Engaged wondering and deep listening is a great place to start.
If I've learned anything so far, it's that our soul's calling evolves over time, and doors open for us when we are ready to walk through, even if we feel a little scared, a little not ready.
Do you remember what that feels like?
It's that feeling of scary-exciting where you feel a little tingly and a lot alive. Living your authentic purpose is not always comfortable. This is because growth happens on the edge of our comfort zone, and truly being alive means growing, learning, being authentic, daring to evolve.
When we become deeply congruent, when everything clicks, it is both comforting – like coming home – and exciting, like starting an amazing adventure. Life – illuminated. That's what it means to be deeply, fully alive.
I hope you have an exciting day!
Love,
Erin
Living Joyfully: a Tribute to my Grandfather
My father once told me, there are only a few people in this life who will love you unconditionally. When you find them, you better hang on to them. And that's why it hurts so much when you have to let them go.
Today would have been my grandfather's birthday. I am terrible about remembering dates and numbers, but this one I always remember. Bastille Day, July 14. Grandpa Taylor's birthday.
Thank you for coming into the world, grandpa. I am grateful for you, and all that you did for our family, and all you taught me.
My grandfather was one of the few people I have ever met about whom I can truly say, he loved me unconditionally.
It's not like he just let me do whatever I wanted – when I was a kid, he never let me get away with any crap; he called me out when I was being mean to my little sister, for sure, but I never felt that he "judged" me. I never felt that he decided, "oh, Erin is this way," because of the way I behaved, or looked, or the things I did. If I was doing something unkind, he corrected me. And through it all, he just loved me.
I can see him sitting in my grandmother's kitchen, with the big round mug of "Black Russian," which he drank most summer afternoons. He had a picture in his room, a sketch, of Man'o'War, the greatest race horse of all time. I remember studying the picture. To me, it seemed to embody strength, power-in-stillness, and a kind of soulful nobility.
In my mind, these qualities have intermingled with my memories of my grandfather, who also possessed a quiet strength, as well as an unstoppable sense of humor and fun.
In the summer, my grandfather would come out to the driveway of my grandmother's house with his big stopwatch and have me and my sister race to the neighbor's house and back, timing my start after my sister's so that we would tie. This bugged the heck out of me at the time, but it taught me a sense of fairness, and I remember it to this day. After the races, he would retire to the coolness of his living room with big earphones on, hooked to the radio by a long, curly cord, and listen to Beethoven symphonies turned way up loud.
When someone loves you unconditionally, they let you show up exactly as you are. They don't "decide" how you are, or how you "should" be. There is a comfort and a joy of being-with someone like that, because you feel free to just be yourself. He taught me that when you cross the line and hurt someone else, you need to change something about what you're doing. Fix it. Forgive. Get back to living and having fun. At your core, you are always lovable.
Today when I think about the things I'm doing, or plan to do, I can ask, what would my grandfather think of all this? What would he say? What would he want for me? Because for me, he holds a standard of honor, a high standard of integrity that I can rely on and trust. Most of all, he would want me to be happy.
I hope that you have someone like that in your life, too.
Grandpa was the kind of person who could fix anything. I remember him working on our family car, my dad's tractor, all of our old, second-hand farm equipment. It all broke down a lot, year after year. He seemed to have endless patience, and the unshakable belief that no matter how broken down it was, it was never beyond hope. I imagine that, in the war, he was one of those American boys who could fix anything, any broken-down lorry or jeep, and get the thing up and running in no time with some wire, a fee metal scraps, and whatever odds and ends he could find. I've seen him do it!
He taught me that no matter how broken something may seem, it still has value.
Thank you, grandpa. I will repay you for the things you taught me about life and love by doing my best to embody them, and by passing them on.
I wish that you could have met my children, because I know you would have loved them unconditionally, the same as you loved me.
I know you would not want me to cry today. I know you're not really "gone," but god I miss you sometimes. Thank you, thank you, thank you for being. I'm forever grateful for you.
You're in my heart, always.
Love,
Erin
Living Joyfully: Returning to Original Wholeness
This week, as our vacation at the lake nears its end, I found myself listening again to Caroline Myss's Advanced Energy Anatomy. One of most fascinating points Myss makes, is the idea that every part of us is continuously co-creating our life. Every part of us, from our higher self, our rationality, our education – to our unhealed wounds, our fears, and "our shadow side," our unconscious wishes and motivations.  "Every fragment" is co-creating the experiences that we call "our life," co-creating the experiences we need to have in order to learn and grow, and to walk the path we came here to walk. As my friend Erin Geesaman Rabke might add, some "more skillfully" than others.
To me, this image of fragmented co-creating is yet another reminder of how important it is to do the inner work we need to do to become whole, or to put it better – to return to our original wholeness. There are so many scrapes we receive in this life, so many challenges we all face. No one reading this today has escaped disappointment, loss, difficulty – what Hamlet calls, "the heart-ache and the thousand natural shocks that flesh is heir to." It's easy to feel fragmented, and pulled in different directions by our hopes and fears, our scars and aspirations. Is it any wonder that manifesting something coherent and good takes time?
When we disown pieces of ourselves, or when we carry with us the "weight" of heavy attitudes such as anger, grief, or resentment, without honoring ourselves by listening to them, resolving them, and clearing them from our system, our ability to creatively co-design the life we want to live is greatly diminished. As Myss puts it, the more we carry that "weight," the longer we have to "wait" to manifest our fullest and highest potential.
Many practices – Yoga, Chi Gong, relaxation, even simply sitting quietly for a few moments at the start of the day – can help us reclaim the sacred ground of our own being, our center, our sense of wholeness.
One of my favorite practices for clearing away the "weight" of heavy attitudes and returning again and again to original wholeness is Jin Shin Jyutsu.
So today, I'll share a short, relaxing audio practice with you, as a special thank you for being a "Living Joyfully" subscriber. You can access it from the Radiant Energy for Life website by clicking here. I hope you enjoy it.
Have a wonderful day!
Erin
Living Joyfully: Practicing "Enough"
The feeling that we have not done enough, that we don't deserve to take time to take a break, and to relax, is one of the main factors leading to overwhelm and exhaustion. And it's easy to go there – we all have so much to do. Yet even on the very last day of our lives, we will still have unanswered emails, our trash cans may not be emptied, our house may not be completely clean and neat, our work will not be finished – and yet, that's "the end."
It's funny when we think about it that way – chances are we won't be sitting there wishing, wow, I wish I had checked emails one more time, or gee, I wish I had put in more hours at work.
When I was studying Yoga of the Heart with Nischala Devi, she would share stories with us about the patients she worked with, type-A personalities, who came into her program because they had suffered a major cardiac event. Many of them had open heart surgery of some kind, which is often life's way of saying, loud and clear, "slow down." She would say to them, kindly, "the heart is our body's selfless servant, tirelessly beating night and day to keep us alive; its the most caring and compassionate organ in the body…   
Why did your heart attack you?" And the funny thing is, they always knew.
When we're faced with the realization that everything is temporary, the preciousness of the present moment suddenly becomes clear. The miracle of being able to pause for a few moments, and look at something beautiful – a rose just blooming on its dewy stem, the face of a loved one, the smell of a delicious meal, the feeling of a child's gummy little hand in yours – each of these "little things" becomes an every-day miracle. The ordinary becomes extraordinary. Imagine a life lived like that, full of a sense of the magic and miraculousness, the preciousness, so much to be grateful for, all around you.
That life is open to you, right here, right now. But it asks a great price. It asks us to pause, to release our death-grip on the self-imposed conditions of lovability, the unconscious, shaming idea that "If I don't get all of this done, and damn near perfectly, I am not enough. If I don't complete this, I am not acceptable. If I don't accomplish enough, I am not lovable." This deeply unsettling feeling is what Brené Brown calls "hustling for acceptance." It's the opposite of wholehearted living.
Today I'm here to remind us all, kindly, and compassionately, "Enough. Enough of that. Lay that down. Enough. Rest now, in the beauty of this moment. Take a deep breath. Let it out again. You've done enough. Be here now, deeply, deeply alive."
Living a wholehearted, joyful life, asks us to lay down the burden of pressure, the sense
of not-enough, whether it's the sense of "I am not enough" or "I don't have enough" or "I cannot be enough for everyone." Chances are, you are already doing quite a lot, and doing it really, really well (you are, you are!) and one of the gremlins that keeps you persisting in believing otherwise is the mental chatter of "not-enough."
So pause again. Lay it down. Let it go, again and again. Take a deep breath. Let it out. This simple practice hold so much. Be where you are. Welcome a sense of "enough-ness."
The poet David Whyte says it beautifully:
Enough. These few words are enough.
If not these words, this breath.
If not this breath, this sitting here.
This opening to life
we have refused
again and again
until now.
Until now.
When we allow ourselves to have conditions of enoughness, meaning a personal sense that "this is enough for me," when we let go of our need for an unreachable perfection, we open up to the vulnerability of really living. This doesn't mean you should just let your house go to pot or stop taking care of your children, or let go of lifting a finger to get your stuff done. It's more about an attitude of sufficiency. It's letting yourself rest, even in the mess. It's choosing joy, for yourself, over a check-list of accomplishments. You can take this outlook with you into all of your "doings."
Here's the heart of it. To practice, to affirm "Enoughness" is to say,
"If this is all I can get done today, okay. I am still worthy of love and belonging. I am still worthy of taking some time for myself  
to rest and breathe."
Most of us are our own worst boss. Many of us have inherited such a sense of pride-in-getting-stuff-done from our hard-working ancestors, that the idea of taking a break, of resting before we "have-to," or even delegating and getting some help so that we can enjoy some time to ourselves, can bring up a lot of issues around self-worth. We may be carrying judgments about the need to take a break. "I don't need to take a break, I can do it all!" We may be carrying fears, "If I take time for me, who is going to get everything done for the kids, or for work or for fill-in-the-blank!" Even though you know, deep down, that you are a better parent, partner, worker, lover, liver of life, when you do take time for yourself.
To practice "Enoughness" is to say, my work here is not done, but I have done enough for now. Now, I will rest. Now, I will enjoy. Now is the only time I have, and I will spend it letting the beauty all around me pierce my soul. Simply being, in the midst of all of this, is enough.
So today, right now, let's pause again. Look around – better yet, go outside and look up at the vastness of the sky, the space between where you are and the far horizon, and all it holds. We're here to wonder into it, to delight in it, to share the beauty of what we see. To say, with the poet Mary Oliver, "Look!" and laugh in astonishment.That practice is enough.
And if no one else has said this to you today, let me say it:
You are enough.
You are doing ENOUGH.
You ARE
enough, in your being. You are perfect. You are here. Be here. Rest now.
May your day be blessed with the everyday miracle of kind and loving attention to the beauty all around you. You can do that. You're doing it right now.
And so may it be for me, and so may it be for you, and so may it be for all of us.
Namaste,
Erin
Living Joyfully: The Need for Sanctuary
We all need space. Space for the inner life, for creativity, for sanity – space to unwind, space to be ourselves.

This is a deeply felt need today, touching lives all over our planet, affecting all beings, a need reaching far beyond any one person's story. And yet it is our individual experiences that make up the collective experiences of our time, and that hold the key to moving beyond the conflicts and challenges that undermine our well-being and threaten our very survival. Finding a sanctuary within, a space for loving-kindness, holds such a key.
A heart made of tree bark my daughter Ava found
I found my first sanctuary on the school bus, on the way to grade school. Maybe it was the first time I needed one. I discovered that I could close my eyes softly, and turn my face to the window, and enter another world. Behind my eyelids, I could still "see" the play of light and shadow as the noisy bus zoomed down the old, dirt roads lined with trees, their leaves and branches dappling the reddish hue visible behind my eyes, now dark, now light, now dark, now light again. I could pretend I was a space traveler, zooming through a nebula with Flash Gordon, exploring new galaxies. I could dream I was a thousand miles away from the bullying kids who sat around me, calling me names, tugging at my pony tails. If I sat there long enough, focusing in on my reverie and the play of light, their voices would fall away. They would lose interest in tormenting me, and move on to other things. I could be "free."
We all need sanctuary. A space where we can be ourselves, free from harm.
Sacred space of mama-hood. Erin holding baby Aiden, March 2013
This childhood memory is no lon
ger painful – in fact, it's actually a very exciting and illuminating one for me, although that may sound strange; I can recall the feeling of freedom, and the sight of the dappled colors behind my eyes so vividly that
I know this moment held a seed of transformation.
When I went into that space, I was not spinning aimlessly in the vacant space of dissociation. I was following a deeper calling, moving into meditative territory, finding sanctuary within.I was reading this week in
Jennifer Louden's blog
on this idea that our "shadows" and our "wounds" actually hold the direction of our calling – if we work with them. It's not the
story
of "what happened to us" that's so important, exactly, but the actions that come out of it – it's what we do with it that counts.
I love this idea, because when I look back at my life and work, I can see that the things that feel most meaningful for me to teach and share come out of the discoveries I made in the process of seeking out the things I needed most.
Sanctuary. Space for the creative life. Space for sanity, space to be yourself.When I first opened the Yoga studio I once had the privilege to own & run, my boyfriend at the time mockingly called it, "The Sanctuary." (There's a reason he's an ex.) There's nothing mocking about it: It has always been crucially important to me to find, and cultivate, and hold sacred the space we all need to feel welcome, and nourished, and loved.When we don't have such a space, within or without, we tend to react against the challenges we face with violence and hatred instead of compassion and loving-kindness.
Erin at newly opened
Avenues Yoga, 2009
In ancient times, a sanctuary could be a sacred grove, a chapel, a waterfall – holy ground.  Since I left the studio to find new ground, I have been looking for a space, for a sanctuary to call home – one where I can live and work and share the teachings so dear to my heart.
One of many lovely waterfalls behind my house
Sacred space can be as simple as a kitchen table covered with art supplies – as long as everyone's expressions are welcomed and cherished.
Aiden dabbling with watercolors,
May 2015
Sanctuary can also be found in the guided visualizations and relaxation practices I hold so dear, and that work so well to draw us into unwinding, releasing the negativity and emotional gunk that sometimes clings to us, and finding our way again with a replenished heart. (I'll be sharing some of these techniques in my free relaxation audio course later this month.) When I reflect on my personal story, I understand why sharing these practices mean so much to me.
We all need space. We all need the freedom and safety to explore our own creative impulses. We need a space within that's free from harm, free from the inner critic, free from outer critics. We need space to be ourselves and space to find ourselves when we don't know who we are any more. Such times need tenderness. Sanctuary.
My writing sanctuary
Sacred space can be virtual. Not virtual as in "unreal," but virtual as in its ancient meaning: "possessing certain virtues." Guided reveries are "virtual" experiences in this sense, and our bodies and minds respond to them in the same way they respond to actual events. Just like our ability to go within, into the dream-time of meditation and inspiration, virtual space provides us with the ability to connect with our wiser selves, and with our kindred spirits across time and space, as we are doing now, through sharing this story. Sacred space like this possesses an incredible virtue: it is something we can share, even though I may be "here" and you may be "there."
Do you ever fall into this trap? I know I do sometimes, and it can be so isolating. It's when we think of the hardships we've faced, or the difficulties that have plagued us, as things to be ashamed of, to outgrow, to leave behind. I was reminded by my friend Marilyn Bosquin last week that owning these stories, welcoming them back into our lives, is an act of tremendous self-compassion. For a long time in my life, I would never have told anyone about those days on the bus. Now I understand that I have built my life on the wisdom that my child self discovered, through the pain that she endured, through experiences no parent would wish their child to have. She's a part of me; she made me who I am. To leave her behind, fragmented from my being, disowned, denied, forgotten, would be to impoverish myself and those around me. Because to understand her story is to understand the passion behind the teacher I've become.
And I imagine that it is the same for you: the things you needed most became your calling too. I hope you find them, and when you do, I hope you share them. Because that's what we're here for. To help and love each other. To find the gifts we need in order to thrive and in order to live in joy.
I'll leave you today  with some words from one of my heroes…
May I become at all times,
Both now and for ever,
A protector for the helpless,
A guide for the lost ones,
A ship for those to cross oceans,
And a bridge to cross rivers,
A sanctuary for those in danger,
A lamp for those in darkness,
A refuge for those who need shelter,
A servant to all in need.
-The Dalai Lama
With love,
Erin
p.s. Take this as a head's-up – I'm working on a new
Sanctuary project
.
Right here, from the sweet sanctuary of my writing space. And you can be here with me too. Want to learn more? Just hit "reply" and let me know what's on your mind.
---
Living Joyfully: Follow your White Horse
Click here to listen to the audio version:
Imagine yourself in ancient times, creeping through the dim and echoing forest, every sense alert and aware. Pushing the branches out of your way, you feel the ferns and forest grasses brushing against your legs. You can smell the rich, pungent scent of pine and hear a distant stream rushing over the stones. Suddenly, up ahead, you begin to make out a clearing – look – a shaft of light penetrates to the forest floor. And what is that? A flash of white – a stag? A horse!
Majestic, luminous, graceful, powerful – where is it leading? Something tugs inside your heart and you must follow.
Many adventures begin this way, and many mythologies speak of the allure of glimpsing a white creature in the forest. Such light is all around us, but sometimes, we have to find ourselves tangled in the forest of bewilderment, or wandering lost – like Dante's pilgrim –  in the dark wood of error, or laboring in the midst of a great unraveling, where all of our once-familiar bearings have dissolved, in order to really listen to the true guidance of our hearts.
A good Yoga or relaxation practice can bring us to a place of peaceful unmooring too, where the petty concerns and habits of the day drop away, and we enter into a sense of expansive being in which many things become clear, and those that don't, seem to matter far less.
In this life, we are constantly being pulled this way and that, sometimes up, sometimes down, sometimes toward fulfillment, happiness, and joy  – sometimes toward things that bring us pain and suffering. In the midst all of these powerful currents, something inside of us does its best to lead us toward fulfilling our destiny, our dharma, our personal reason for being here. The ancient Rishis pictured this divinely benevolent force as the white horse – the one powerful and wise enough to pull us in the direction we're meant to go.
Vedic charioteers prized white horses for their courage and strength; more rare than other colors, white horses possess the majesty, endurance, and intelligence of their peers, but must also be more wise, because although other creatures can hide when darkness falls, the white ones stand illuminated.
In this sense, the white horse also symbolizes the divine light within each of us that can never be put out. 
One of the most compelling texts in the Vedic tradition, a tradition that feeds the ancient roots of yoga – is the Shvet-ashva-tara Upanishad, or Sacred Book (Upanishad) of the Supreme, excellent (tara) White (shveta) Horse (ashva). This sacred book urges listeners to follow their white horse in order to reach fulfillment.
Sometimes this means letting yourself feel lost, at least for a time. Entering the forest, where familiar landmarks disappear. Allowing yourself to tread water in a state of not-knowing. Always, it means turning down the volume on the ordinary calls for our attention, and allowing the wise, clear voice within to light our way. We'll know we're on the path when we recognize the qualities of the white horse – grace, dignity, inner strength – beckoning us on.
So may it be for you, and so may it be for me, and so may it be for all of us.
---
Living Joyfully: "a Toast to the Meaning of Life"
Dear Friends,

I read a post today from a former client who is continuing her healing journey, in spite of many obstacles. I'm so inspired by her success and her courage, but I also got upset as she described the criticism she's gotten for setting boundaries with people who have hurt her in the past, and even for sharing her story in the first place.

Why do we share stories about the hard things we've been through? Is it to bathe in our own narcissism? Is it to get everyone to agree "poor me"? Most of the time, I think not.

To take what we've experienced and make meaning out of it, to offer back something of beauty and value out of the experiences we've been handed, "good" or "bad" is the best part of human nature. This is why we create art, why we sing, why we tell stories of any kind. We take the random, the bewildering, the inexplicable, and we create order, beauty, healing, meaning.
When it comes to our personal experiences, sharing can feel so risky, so vulnerable. And yet when we have the courage to share, we begin to make sense of what we've been through; in the process, we touch other people's lives and help them grow. The point of such sharing is always to understand, to heal, and to move forward into greater joy, greater love, greater connection with who you're meant to be and how you're meant to serve the world. How can we serve the world from a place of authenticity without understanding and making sense of our own story? How can we touch other people and be touched in return, without opening up to the vulnerability of such intimacy?
At root, the word "courage" means to be able to tell your own story with a whole heart. To take the random, the chaotic, the hurtful, the blissful, all together, and to offer back a glimpse of the pattern.
It's said that the Mayan weavers begin each day with their piles of different yarns, their dyes, their memories of all they've experienced – and this prayer: "Grant me the intelligence and the patience to find the true pattern." And so the weaving starts.
For today, I'm just grateful that my beautiful children are happy and well, and making meaning through their own forms of self-expression in ways that touch and inspire those around them. And my little horse Whimsical, who was on the verge of death all weekend, has experienced a miraculous turn-around and is now racing around her paddock and tossing her magnificent head in with life-affirming snorts of defiance.
So may it be for me, so may it be for you, and so may it be for all of us.
Living Joyfully: "Just Kind"
Dear Friends,

One of my favorite teachers, Nischala Devi, shared a story from her early days on a committee in the International Association of Yoga Therapists. She was advocating for more involvement from women, and her suggestions were being met with harsh criticism by one of the male members of the team. At one point, she recalls, he sputtered,"You know what? You're not even very smart. You're just…" (a fuming pause ensued)…
"Just… Kind."

We all laughed when she told us this story. Laughter of disbelief at his rudeness, laughter of commiseration, and laughter that "kindness" would be opposed to "intelligence" in this way.
My beloved teacher is actually both smart and kind.  She is, in fact, one of the kindest people I know. And I think this kindness is very intelligent, very wise.
The funny thing is, I suspect that this "either-or" mentality is one of the reason most of the women I know, even awesome female yoga teachers, don't see themselves as leaders – in their teaching, in their families, in directing their own lives & reaching for their dreams. They don't recognize the skills they bring to the table because they're not the ones we've come to associate with leadership. For example, they don't see their kindness as an asset, as a form of intelligence in itself.
The truth is, it's possible to think of kindness as a more feminine form of power, or "soft" power, as opposed to the power of cruelty, of dominance. Women tend to hold this form of intelligence, of soft power, very naturally. But it is not just a quality for women.
For women and men alike, being able to cultivate a compassionate inner state contributes to emotional intelligence. It's obviously not the same as book learning, but when it comes to leadership and in life, emotional intelligence is often a better predictor of success than a high IQ alone.
The Dalai Lama suggests:
If you maintain a feeling of compassion, loving-kindness, then something automatically opens your inner door. Through that, you can communicate much more easily with other people. And that feeling of warmth creates a kind of openness. You'll find that all human beings are just like you, so you'll be able to relate to them more easily. That gives you a spirit of friendship. There's less need to hide things, and as a result, feelings of fear, self-doubt, and insecurity are automatically dispelled.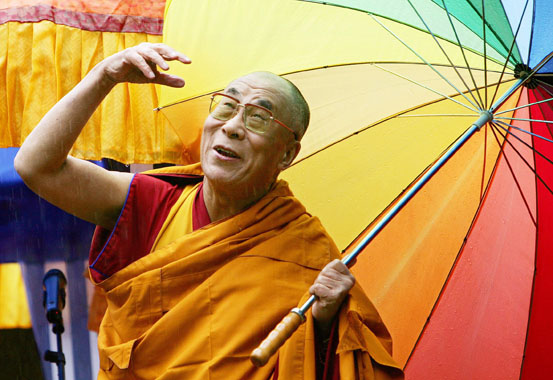 Also, it creates a feeling of trust from other people.  Otherwise, you might find someone who is very competent, and you know you can trust that person's competence. But if you sense that person is not kind, then you have to hold something back.  You feel that, 'Oh, I know that person can do things, but can I really trust him?' so you will always have a certain apprehension which creates a kind of distance from him. So, anyway, I think that cultivating positive mental states like kindness and compassion definitely leads to better psychological health and happiness." (The Art of Happiness, pp. 40-41)
Welcoming an inner state of loving-kindness also helps us build trust in ourselves – our inner critic can be so harsh! 
Building up kindness within also helps us offer back that same, genuinely loving quality to others, raising their level of trust and openness with us. The ability to share from our own loving-kindness is such an asset when it comes to healthy relationships, and for leadership of any kind, because true leadership is built on relationships.</st rong> In fact, in Equine Facilitated Learning, being able to adopt the role of nurturer-companion is considered a key element of well-rounded leadership.


I think that our world will begin to recognize more and more, that models of leadership based on dominance and intimidation are much less effective than those built on relationships of kindness, mutual respect, trust, and love.
Kindness matters! (Pass it on!)
Namaste,
Erin
Click here to reply & share your thoughts with me. I always love hearing from you.
Living Joyfully: Can you Hear the Music?
Dear Friends,

I'm in Arizona this week, completing my certification in Equine Facilitated Learning with Linda Kohanov. We're focusing on opening up our creative intuition – we got to make music with Steve Roach and today we're exploring creative movement through horse dancing. Wow – what a fun adventure!
This morning as I sat writing, I began to wonder about the strange music I could hear off on the fringes of my awareness. Haunting, subtle, and sweet – as it continued I paused and listened to the long, low, breathy tone. I could feel a space opening up inside of my body where this sound could resonate. This felt peaceful and exciting at the same time. All at once my mind darted in and put a name on it: "It's the water kettle!" Doh.
Hmm.
For a moment I felt deflated. I had been listening intently and even rapturously to an every day thing.
Then I got excited. I listened again, not with my mind, but with the deep chamber of my heart, the resonating, labyrinthine, cavernous instrument of my physical body. Thank goodness that in spite of my mind's labels I could still hear and feel the music.
There is a story I heard from Clarissa Pinkola Estes, drawn from the wisdom of this country's native peoples, called "Coyote learns to Dance." My favorite part is when Coyote goes walking in the evening past a field of corn. He hears the rustling and the rhythm of the wind moving through the field, making music with the corn. "Sh-sh-sh-sh!" "Sh-sh-sh-sh!"
All night long he dances with the corn people. Dancing, dancing, to the music, wild and alive. And in the morning when the workers pass by on the way to the fields to dig their long straight rows they see Coyote curled up in a pile of husks, sleeping away and they laugh and laugh – 'Coyote is crazy!' 'Coyote had too much to drink.' They make fun of him.
But Coyote – knows how to dance. This is a knowing not of the mind, but of the bones.
Can you hear the music?
Namaste,
Erin
</t able>Live "Midnight Broadcast" Audio file: Compassion – Suffering – Transcendence.
Please note: Out of respect for client privacy, the client stories I share in this audio are composites of many different stories that different clients have shared with me in the past few weeks. The composites reflect some of the different facets of the issue of coping with loved ones' challenges, while still pursuing one's own quest for happiness.  .xx  



  











 xx


Living Joyfully: The Sound of Water
By Erin Menut, April 23, 2015

---

One thing I love about being back in Vermont is hearing the little stream behind the house where I grew up. For many, many years, the sound of the water streaming over the rocks lulled me to sleep, kept me company throughout the starry night, and welcomed me back to waking at the break of day.

I never forgot again.

One of the central teachings of Feng Shui is the understanding that everything in our environment affects our energy in some way. Every object in your home, your office, your surrounding environment supports, sustains, or diminishes your energy in some way.

This week, I am finding joy in the practice of exploring the gifts of the energy-forms in my environment.

Would you like to join me in this practice?

It takes less than a minute, although you can go longer if you like.

Here's how:

*Simply allow yourself to drop down out of "busy" mode, in which you move through your home, office, or environment in order to "get somewhere," and instead, allow yourself to BE in your environment with a soft focus. Ahh. That alone is so nice!

*Invite all your senses to open up to the experience of being there. What do you hear, smell, see, touch, taste, feel?

*What objects stand out for you in some way, either positively or negatively? Is there something missing?

*Choose one small thing to remove, shift, or add. Removing any clutter is always a great place to start.

*Or you can choose any object to hone in on and ask, "Does this help me feel connected with the source of my own radiant life energy?

Wishing you a wonderful week!
Namaste,
Erin

Living Joyfully: Nourishing the Soul

Click here to listen to the audio version of this week's newsletter:

http://erinmenut.com/wp-content/uploads/2014/04/soul-food.mp3

I grew up in a home where "to use" meant "to waste."

Even just a few years ago, my mother came to my home and noticed with horror that I had been burning a candle she had given me.

"Yes," I said, "I've really been enjoying it. Thank you."

The idea that "to use" means "to waste" played a very big role in my creative life as a child. Art supplies cost a lot, so to get a gift of special paper, or new colored pencils meant that anyone seeking to "use" these dear gifts must pay a heavy psychological toll. It took a certain level of bravery, to dive in.

Because the awareness of the high cost of these items was impressed upon me from a very young age, when it came time to use these precious treasures, I always felt like my creation had to be really special. With that pressure always looming, I often opted not to use the colored pencils at all, and to leave the precious paper in its box. Instead I would wander out, into the fields and woods, where nothing had an obvious price tag. And so the precious paper and pencils would sit, expensively, unused and lonely, on the shelf. It seemed easier to bear the guilt of not using them, than the guilt of using them.

The cost is very high, for such precious things.

It horrifies my mother to this day that I let my daughter put stickers all over a plain white piece of paper. Sometimes my daughter uses Every. Single. Sticker.

And something inside of me goes, "Yeeeeeaaaaah!" "Woohoo!" And leaps with joy, like a deer in the spring forest.

And I defend my daughter, with the words I did not possess in time to shield my own childhood. To live means to live in joy. To use the gifts we are given means to live in joy. "To use," with gratitude, means to live in joy.

I defend my daughter with love. With love for the grandmother who grew up in such scarcity, such fear. With love for the mother who after many years found her own way back to the heart of the creative life. With love for the daughter and her joyful squeals. Because as each sticker gets "used," (!)  as each color bathes the page, as each page fills with the light of imagination – this joyful "using" gives back to each generation the food that they were starving for, the food that nourishes the soul.

There is a word in French: la nourriture. This means nourishment, food, and, importantly: that which supports the life of an organism.

I give thanks today for all things that nourish the soul, la nourriture that supports the life of an organism.

And I give thanks to all creation for such precious beauty, such joy.

I give thanks for the leaping creative force within
that will not be stilled and can only be at times diverted.
For everything that finds its way home at last. For that
within all of us
that can never be destroyed.
For the life force that endures.

I heard a prayer, from one of my favorite teachers the other day, Clarissa Pinkola Estes. It goes something like this:

May I be a radical.

Can you believe little Aiden just turned two!?!

May I have the courage to stand
In the place of my own knowing
To speak
From the calling of my own heart.

May we all have this courage, today and every day. The power to recognize la nourriture when we see it, and to seek it out, to take it down off the shelf, and make grateful use of it to live, joyfully, every day.

Namaste,
Erin

Have you had an experience like this? Click here to share your thoughts with me. I always love hearing from you.
If you enjoy social media, you can also share your thoughts on

Living Joyfully: a Daring Adventure + Spring Equinox Special

by Erin Menut, March 20, 2015


Hello Friends,

Helen Keller once said: "Life is either a daring adventure, or nothing."

These words have been resonating in my mind all week.

One of the most daring adventures I know is LOVE.

In their beautiful audio course To Love and Be Loved: The Difficult Yoga of Relationships, Stephen and Ondrea Levine talk about how loving another being opens us up to intense suffering. We've all heard it before: Attachment causes suffering. Yet, as the Dalai Lama says, 'no attachment, no compassion.' Love brings suffering, partly because of how vulnerable we feel when we open our hearts to another being, but primarily because everything is temporary. No matter how much we love someone, in the end we have to let them go. It's a brave thing, to love.

I often practice heart breathing with my children, and today I practiced it with my son, who will be turning two next week (!). I have to say, this is one of the most intense and exquisite practices I have ever found, to experience moment-to-moment connection with another being. Breathing in, I welcome him into my heart; breathing out, I surround him with my love. I find this practice totally impossible to do without crying. It's impossible to describe all the feelings it brings up, but joy-pain-joy is definitely one of them.

One of my favorite Yoga teachers, Peter Francyk, would often say that we are not "one." Rather, we're separate, but connected.

I believe that the sense of separation we experience presses us onward to always seek for ways of feeling connected. The feeling of connection allows us to experience tremendous joy. And, of course, tremendous pain. The joy stands out, against the backdrop of it's temporariness, in the face of suffering, pain, and death, like a flash of lightning against dark storm clouds in the unfathomable night sky.

Would you escape from suffering, never feeling pain again, if the price was to never feel love? To never feel joy?

Would you choose a grand adventure? Or… nothing?

As Brene Brown found in her research on vulnerability, shame, and the merits of whole-heartedness, it is impossible to numb selectively. If  you choose to numb, you can't just numb out suffering; you numb out everything.

If you're not experiencing a grand adventure, if not in this breath, in this day – if not in this day, in this week – if not in this week, in this month – if not in this month – then when? And who can change this for you?

May you be brave, and well, and may you live and love joyfully, today and always.

Namaste,
Erin

Spring Equinox Special: Enjoy $50 off

Are you experiencing a daring adventure in your life? Do you still feel the childlike joy of simply being alive? Or not so much?

Life will just carry you along, if that's all you want. But the truth I've discovered is, also, that life wants you to thrive, and wants you to actively participate in your destiny. It takes a little shaking up though, and even though you will never feel totally ready, it's possible that you are being called to wake up to JOY, possibility, and playing big, in a whole new way. (And yes, that is totally possible.)

Spring is a great time for new beginnings, don't you think?

I've just opened up five spots for Living Joyfully 101, which starts March 30. This is the last opportunity to participate this spring, and this is the only time I will be offering the program at this special price.

Are you one  of the lucky 5? If so, please enjoy special spring savings of $50 off!

What can you expect to get from this program?


Tons of personal support and encouragement .

Unwavering guidance in practical, fun ways to live more fully, more joyfully.

Inspiration.

Ideas for Playing Big that really work.

An unconditional guarantee. And lots more.

Through personal emails and calls, we focus on what's going on with you, and how to get back to enjoyment and love for what you're doing.

Living Joyfully 101 is a six week online program, filled to the brim with daily support, audio guided visualizations, encouragement, and tools drawn from Yoga, meditation, energy work, and more. You can keep these tools forever. They're the best ones I know of for living a life of greater joy.  

More details? Click here to email me with "101" in the header and I'll get the word right out to you.

A tiny glimpse at what my clients are saying:

"I am just amazed at how much my negative self-talk has diminished (or has weakened its hold on me) in the past 40 days…"

"I'm coming back to my authentic self and a big realization is that I now know what I believe in and I'm not letting anyone deter me from my course and truth so easily."

"I did want to tell you that at first glance I thought this would be a crazy lesson, but really got a lot out of it."

"Erin, your program was brimming with meaning and touched me deeply."

"Thank you so much for this program. I can't believe how far I've come in such a short time. It's nothing short of amazing to me."

Would you like to experience these results for yourself? Click here to email me with "101" in the header and I'll get more info out to you. 
HAPPY SPRING EQUINOX!


Living Joyfully: The Power of Choice Points + a Story with Wings
by Erin Menut, January 15, 2015

 

Hello Everyone,

There was a time in my life when I didn't feel nearly as strong as I do today.

There was a time in my life when I was bullied and harassed so much that I sometimes doubted if I wanted to go on. I turned inward, into my own shell.

There was a time in my life where I couldn't get a word out if an authority figure spoke disapprovingly to me. I'd break out in a cold sweat and start to shiver, it

was so bad. Have you ever felt like this?

 

Once, during this time, a professor confronted me and told me I was going to fail his class. Can you imagine how I reacted?

You can read the entire story by clicking here.

I won't give the plot away.

Let's just say that this frightening incident made me realize that something in my life had to shift.

By overcoming challenges like this I've come to recognize a powerful truth:

Roadblocks are some of life's most amazing gifts.

They're "choice-points" – spots where we either have to tuck tail and turn back, or sprout some serious wings, (claws, teeth, armadillo skin, whatever) and find a way to move ahead.

 

Until we see them as choice points, these circumstances can keep us in a state of worry, anxiety, fury and pain.

 

Could it be true that the more negativity you're experiencing, the more life is asking you to grow?

And that your own resistance to growing in this way is part of the energy keeping you small?

Until now.

No one deserves to be shamed or bullied. And it's amazing to me that this is something many people do to themselves, on the inside. It's just one of many weird things we do in our minds, often in the name of improving ourselves. But you can't bully your way into self-improvement. And sometimes it's hard to see roadblocks as choice-points without a little encouragement and support.

I'm passionate about helping my clients cultivate personal empowerment skills – building inner resources so that the life we lead is one of joy, no matter how many roadblocks we encounter along the way.

Being willing to speak up, and stand up for yourself, is just the outward manifestation of something far deeper and more profound on the inside.

 


 

It's a sign that you feel a place of center, clarity and value within yourself, and that you know how to tap into it. It's a sign that you've learned to feel at home with yourself there. Once you have this, you will pass it on to your children and those around you – you can't help it! This sort of thing is delightfully contagious.

So, I got a letter from one of my clients this week, and it is the highlight of my month so far. I asked her if I could share some powerful excerpts from it, and I'm so glad she said yes because I want to celebrate her courage and I know you will be inspired by it too. (Click here to read her story).

One reason I am so touched by her breakthrough is because it mirrors mine – I can so relate to what she was going through because I have been there. I know what it feels like. I know what it takes to break free.

I put my programs together based on the challenges I have faced, and the skills I learned in overcoming them.

That's why I always feel so overjoyed when one of my clients hits a roadblock dead-on and experiences a breakthrough. They don't just sprout wings for themselves – they do it for all of us.

Because when one person grows, when one person reaches a choice-point and says "never again" to the smallness of the past, it inspires all of us to grow.

Love,

Erin

Living Joyfully: Is the Current Moment an Obstacle? Or a Life Practice
by Erin Menut, January 8, 2015


Hello Friends,

Take a moment, before you read on, to just notice the present moment. Are you breathing? Are you okay with it? Are you feeling rushed and hectic? Or calm and still? Whatever this moment is like for you, just pause and be with it. That's all.

Ok. So what did you notice?

Because our lives are so jam-packed with things to do, we often relate to the present moment (if we even notice it) as a means to an end. Or, maybe it seems like an obstacle; we're trying to get somewhere, and this – whatever is happening – is preventing me from getting there.

Believe me, I pulled myself out of bed on many, many graduate school days with this mantra: "I just need to make it through this day."

What I was forgetting, and what is so easy to forget, is that the present moment is Life itself.

This is what Mary Oliver urges us to remember, by writing, in "Wild Geese":

Tell me about your despair, yours, and I will tell you mine.
Meanwhile the world goes on.
Meanwhile the sun and the clear pebbles of the rain
are moving across the landscapes,
over the prairies and the deep trees,
the mountains and the rivers.
Meanwhile the wild geese, high in the clean blue air,
are heading home again.

This is life.

It was about six years ago that I met Peter Francyk, one of the most influential teachers I've learned from so far. I had started my own business earlier that year, and my daughter had been born shortly after that. I wasn't able to "practice" the way I used to, by going to a power or flow class for 90 minutes every day. I did not have the luxury of that kind of time any more. I complained about this to Peter. And I felt embarrassed and lacking in my practice. I found myself wanting to "get through" my current circumstances so I could "get back" to the kind of practice I  wanted.

With an attitude of hostility toward the present moment, life reflected animosity back to me.

Peter advised me to make being with my daughter my practice.

Because that is Life, my life.

When I approached being with my daughter as an obstacle to my practice, I suffered periods of resentment and sadness.

When I approached being with my daughter as my practice, I did not resent missing my "practice" in order to be with her. The present moment opened up as a space for joy.

That is life.

With an attitude of curiosity and interest toward the present moment, life reflected fascination and delight back to me.

I believe that this is what it means to have a Life Practice.

My life practice stretches back to my childhood. But it was not until I met Peter that I began to consciously cultivate it in a deeper way. This kind of practice crosses over and inspires Yoga, martial arts, Chi Gong, Jin Shin Jyutsu, horseback riding, hiking, whatever "practice" you're doing.

Because whatever practice you are doing, and whatever you're complaining – or praising – about and preoccupied with, meanwhile the wild geese are flying overhead somewhere, and this is part of the present moment too.

Can the present moment get that big for you? (I know it can, or I wouldn't ask.)

And if you can touch that vastness, right now in this moment, what does that feel like for you?

Do you have a Life Practice alongside whatever physical practice interests you these days?

Namaste,
Erin

p.s. If you're interested in cultivating a Life Practice like this, reply with "101" in the subject line. I'll send you the info for my new program Living Joyfully 101, starting in just a few weeks! Read on for details.

And if you relate to this week's letter, hit reply to share stories from your own experience. I love hearing from you. You can also send me an email at: radiantenergyforlife@gmail.com

Living Joyfully:  Many Blessings + The Alchemy of Transformation
by Erin Menut, January 1, 2015


Hello Friends,

I'm inspired to share this splash of beauty today, as we welcome the New Year.

Pausing to contemplate beauty is one of the best Yoga practices available to us. It expands both mind and heart. It reminds us of the bigger picture, and of the best this world, this life, has to offer.

A dear friend of mine lost her beloved pet this past month. She shared with me that, in her grieving, she placed a beautiful flower in every place her companion used to sit, so that when she looked there, she would not see emptiness and loss, but beauty and the renewal of life.

Every end marks a b
eginning. For every loss, there is an opening into possibility.

Many of us face the difficult task of letting go with much grinding of teeth and deep resentment. Faced with the ugliness of change we did not ask for, change we don't want, we create more ugliness. In doing so, we prolong the agony of the experience.

In the midst of transition, we have the freedom to choose bitterness, or renewal.

I'm touched that my friend found a way to be with her loss and her grief through a practice chooses life, that recognizes, in death, the alchemy of transformation. An offering of beauty doesn't diminish the pain of the things we must release. Rather, it honors the process of loss by offering something back – in this case a flower, symbol of life's beauty – affirming, mystical, many-petaled.

In Women who Run with Wolves, Dr. Clarissa Pinkola Estes writes of the little crosses we see in the southwest, on the roadside, often decorated with artificial flowers, sometimes real flowers. Like the placing of a flower, the descansos also mark a point of transition between life and death, the point at which a life was cut off, changing the path of the living too.

For many of us, our life path has been marked by unexpected turns. Maybe we've recognized an opportunity, only to see it squelched. Maybe there are parts of ourselves that we've had to leave unfulfilled; possibilities and talents that remain unexplored. Maybe we've lost, and lost, and lost.

No matter what point we've reached in our lives, we have the opportunity to choose more of the same, or something new.

We have the opportunity to choose bitterness, or to choose life, which is both bitter and sweet. So sweet.

We have the choice to respond to life with ugliness, or beauty.

We've reached a moment of descansos. The turning of the year is such a point. A point in time when we have the opportunity to choose, again, the life we want to live.

Maybe, as you commemorate what you're leaving behind with the passing of 2014, you will chose to mark a turning point with a little beauty. A flower, a cross, a photograph – the form is up to you. Maybe you've lost something, or someone, to time, as my dear friend  has. Maybe it's simply time to let something go so that you can begin again. Let it go with grace and dignity. So that you become light again.

Clarissa Estes writes, "be gentle with yourself and make the descansos, the resting places for aspects of yourself that were on their way to somewhere, but never arrived. Descansos mark the death sites, the dark times, but they are also love notes to your suffering. They are transformative. There is a lot to be said for pinning things to the earth so they don't follow us around. There is a lot to be said for laying them to rest."

Offering beauty in the face of suffering. Saying thank you. Choosing beauty again and again. This is my song of welcome for 2015.

Wishing you all a very joyous New Year.

Namaste,
Erin

If you relate to what I'm saying, hit reply to share stories from your own experience. I love hearing from you. You can also send me an email at: radiantenergyforlife@gmail.com

Living Joyfully: No More Waiting
by Erin Menut, December 26, 2014


Hello Friends,

Remember all those New Years resolutions that never amount to anything? Aside from the question of whether you're just being cruel to yourself, consider this. If you're having trouble manifesting what you truly want, it may be time to take a look at what you're using for your anchor.

In Advanced Energy Anatomy, Caroline Myss insists that the speed at which we are able to move forward, to speed at which we can manifest the life we want to live, depends entirely on how much weight of the past we are carrying around with us. She puts it this way: wait=weight.

Listening to her talk, I can picture Jacob Marley from A Christmas Carol, dragging around those heavy chains and yelling at Scrooge to wake up and change his life for the better.

Most of us are carrying around some kind of burden like that. We're grieving for something we've done or failed to do, we're angry at the injustice of something that shouldn't have happened to us or a loved one; we're worried or irritated about something we wish were different than the way it is; we're afraid that we are not lovable because of something that has happened to us. Heavy matter indeed.

As Echart Tolle says, most people are carrying on a constant conversation with themselves, entitled, "why I can't be happy." And all that stuff weighs us down.

The good news is, we've just turned the tide of the season, and the solstice is bringing the light back. This is a great time of year to break the chains that are holding us back and step into a lighter frame of mind.

One great way to do this is to view the situation symbolically. Imagine that you are the hero of a mythic story. What does the current obstacle represent? How may it be thwarting or distracting you from your quest, which is to flourish into your fullest potential? How might you, the hero, need to grow or change in order to transcend the limitation? Could the so-called "problem" or "reason you can't be happy" have a spiritual interpretation? Can you lighten into a broader point of view?

In Yoga
, the concept of aparigraha asks us to look at the things we grasp after, or gravitate toward – the things we cling to – and be willing to free ourselves of those influences in order to truly thrive. Sometimes the things we cling to are actual physical things, or physical habits that weigh us down. Other times they are prevailing moods, or habits of mind. In either case, aparigraha encourages us to get clear about what we actually, truly, want and need, and let go of the rest.

Maybe some of you remember Jane Campion's beautiful movie The Piano. In the end, the heroine literally has to cut the rope in order to choose life, to experience happiness. The piano itself, which had been her lifeline, becomes the anchor she has to be willing to lose to set herself free.

The great sages of all traditions are full of light. Even though many of them faced terrible challenges on their own hero's journey, they dropped the weight of that past in order to experience a transcendence of form, a transcendence of the suffering of the past. While still compassionate for the suffering of others, they no longer carry their own, "personal" grievances around on their shoulders. They've  surrendered that weight. This is one way to understand enlightenment.

While that's the lofty view, the idea of surrendering the weight that holds us back opens the possibility of greater peace of mind, greater happiness, at all levels.

This week, let's take time to reflect on what we're holding onto, that may be holding us back. It may be helpful to reflect, the more I hold onto this "weight" (anger, grievance, self-doubt sorrow, habit, need for approval, limiting belief – whatever), the longer I have to "wait" to realize peace of mind, fulfillment, the manifestation of what I came here to do.

And it may be helpful to declare, when you recognize that you have the power to set yourself free:

Lightness is Now. Happiness is Now. No more waiting.

Namaste,
Erin

Happy Holidays Everyone! Please enjoy my FREE GIFT to you this season: Holiday Relaxation: an 8 minute guided meditation practice you can do anywhere. (Click on FREE GIFT to access.)

Interested in manifesting your heart-felt desire?
Hit reply to sign up for my FREE webinar coming this January. You will learn and experience the time-honored practice of Yoga Nidra, which helps us cut through the Ego's chatter and get back to what really matters. Put "Let's Manifest!" in the subject line and you'll be on your way toward aligning more fully with your soul's purpose.

If you'd like to share ideas, questions, or stories from your own experience, send me an email: radiantenergyforlife@gmail.com

A FREE Gift for Holiday Relaxation  + Your Life's Purpose + a Magical Story
by Erin Menut, December 18, 2014


Hello Friends,

I truly hope that you are enjoying the holiday season! This time of year can bring out a lot of stress. You may be having a peaceful and enjoyable time — or you may be surrounded by people and incidents that push your buttons. Maybe you are one of those amazing individuals who can enjoy a peaceful and joyful time while being surrounded by people and incidents that push your buttons. (BTW, This is totally possible – read on for more details.)

If you're somewhere in between, you might enjoy my FREE GIFT to you this season: Holiday Relaxation: an 8 minute guided meditation practice you can do anywhere. Nice! (Click on FREE GIFT to access.)

Surrender to your Life's Purpose & Make the Force your Ally

Ego can be defined as an addiction to resistance. When we resist the present moment, our life energy pours into the depleting drain-pipe of anger, resentment, grief and negativity. (Not holiday fun)

When we surrender our need to resist "what is," we begin to live in the present more fully. Instead of relying on our personal ego to solve problems, (and by the way, the ego is not good at "solving" problems) – we we align with life force. There is nothing more powerful than the truth. And the truth is, "what is." Being in alignment with "what is" feels great.

For example, here comes Aunt Milly to criticize my life choices once again. Sigh. My ego would really like to resist this fact and give her a piece of my mind. Instead, I step back into "what is." Aunt Mil
ly is criticizing my life choices. How interesting. The sky is blue. Isn't it lovely. The earth is turning. Life goes on. I go on. Experiences come and go. I feel content. I can still set a boundary with Aunt Milly, if I choose to do that. I can, in fact, set a boundary with or without the "help" of my ego. (Guess which way is more effective?)

Let's take this a little further.

When we surrender to our life's purpose, we align ourselves with prana, life force energy, literally co-creating our destiny. Does this mean everything always goes "your way?" No. Does it mean Aunt Milly will never criticize you again? No. What happens is way more magical than that. Unexpected support begins to show up from sources you never would have imagined.

A Magical Story

For example, here's a little story about something magical – that just happens to be true.

Last month, my sister won the University of Vermont's State Fair raffle and found herself the surprised owner of a registered Morgan horse. Consider the odds. This is the same raffle that I myself won over 30 years ago. Again. Consider the odds.

My sister is not a horse person.

My sister and I have not been close. But I have been longing to be closer with her.

"What are you going to do with your horse?" I asked her. She replied, "I thought I would give her to you."

In Advanced Energy Anatomy, Caroline Myss describes this phenomenon as the way "spirit" works. Tell me something is impossible. "Oh, really?" The divine will reply. "Let me show you what I can do."

As some of you know, this past summer I surrendered my life work of teaching Yoga to follow a calling in Equine Facilitated Learning. A sense had been building in me since 2012 that I was being called to work with horses. I am still not exactly sure what this will look like, but I am listening, and I am in.

And now, I have a little horse – Whimsical – to help me. (Yes, that is really her name.)

Was it convenient for me to sell my studio and leave my home and friends in Salt Lake City to take a chance on this dream? No. Has it been easy? Not exactly. Does Aunt Milly still criticize my life choices? Yes, even more than usual. (After all, this sounds totally crazy.) Have I cried? Yes. Has this leap of faith led to many personal challenges and upheavals? Yes. Has it been amazing so far? Well, yes. Actually. Yes it has.

Wishing you and yours a magical and joyous Holiday Season.
Love, Erin

Interested in manifesting your heart-felt desire? Hit reply to sign up for my FREE webinar coming this January. You will learn and experience the time-honored practice of Yoga Nidra, which helps us cut through the Ego's chatter and get back to what really matters. Put "Let's Manifest!" in the subject line and you'll be on your way toward aligning more fully with your soul's purpose.

PLUS, In January 2015, I'll be launching a new program, Living Joyfully 101. We'll explore ways of moving beyond our blocks and into a life of more joy. We'll look at the things that get in the way of living authentically, and we'll work with some amazing tools for moving past those obstacles and into living the life you want. If this sounds like fun to you, hit "reply" to this email and put "101" in the subject line. I will make sure you are among the first to hear more details!

Living Joyfully: But if you don't mind feeling Ungrateful + Other Surprising Statements
by Erin Menut, November 27, 2014


Hello Friends,

Thanksgiving is canceled this year. Well, just at my house.

My mother has the flu (!) and so all the aunts and cousins, grandparents, nephews and cousins who were expecting to arrive for Turkey and adult beverages this Thanksgiving were told that they had to find somewhere else to go to celebrate the special day.

I have to admit, for myself, the news carried a certain relief.

I'm glad my mother is taking the time she needs to feel better. And I'm relieved to simplify the holiday by having a smaller, more intimate gathering over the weekend. No offense, Aunt Pat.

I love my family. And Thanksgiving is usually fun. But sometimes you just don't feel grateful. Sometimes, you'd just rather be pretty much anywhere else.

Many of us long for the holidays and look forward to them. But sometimes the holidays bring up a lot of stuff. Such as all the childhood pain that we've never completely dealt with. Unresolved feelings. Self criticism. Regrets and losses. Communication challenges. The loud silence of the stuff we never talk about.

And so some of us feel a twinge of dread, and right along side the joy. And we still long for the holidays and look forward to them, because that little child in each of us remains ever, eternally, hopeful.

But at the same time we dread the holidays a little (or a lot) and we rush about, or hide away, and avoid intimacy through them to keep ourselves from re-opening old wounds.

It's just like in our Yoga practice: we rush over or avoid the exact parts we should slow down and make time for for, because, if we did, the real healing could begin to occur.

To make matters worse, we beat ourselves up and think "I really should feel grateful!" I really should feel grateful for all of those relatives who push my buttons the most. (As a matter of fact, we should, for a very specific reason, but that's another topic.)

The point is, at times, we don't. Sometimes, we don't feel grateful. But we believe we should. Then we get all upset with ourselves.

There's a line I love from Eckhart Tolle's A New Earth. Tolle is talking with a young woman who has been through some challenging things and feels very unhappy as a result. She wishes that the bad things had not happened to her. She believes that now
she cannot be happy.

Tolle asks her to examine her feelings to discover whether she is most disturbed by actually feeling unhappy, or by feeling angry and resentful that she feels unhappy and wishing she didn't feel unhappy.

He says, but if you don't mind feeling unhappy, notice what happens to the feeling.

There's a long pause there. Have you ever tried that?

Sometimes just accepting the feeling itself – whatever it is – and dropping the "should" out of the equation takes us a long way in the direction of joy.

It can bring a really big sigh of relief.

So, try this out. If you find yourself feeling ungrateful, start there. Notice that. Notice if you are harshing on yourself and beating yourself up for feeling ungrateful and telling yourself you "should" feel grateful.

Just take a minute to be with whatever you are feeling, in its purest form.

Then ask yourself, what happens to the feeling if I don't mind feeling ungrateful (or whatever)?

You can write to me, if you like, and let me know what happens to you, when you do that:  radiantenergyforlife@gmail.com

What happens to me is, I lighten up. in fact, noticing what happens when I don't mind feeling the way I'm feeling usually makes me laugh.

Today I actually am grateful. I am grateful to you, for reading and sharing these thoughts. I think about you and I am inspired by you. (Notice if you can take that in.)

I'm grateful for my beautiful children. For the opportunity to write, and share my voice. Not everyone around the world has that privilege.

I'm grateful for all my friends, and for all the love that has come my way, and for the love I feel in my heart.

I'm grateful for my new horse baby. Can you believe it? Whimsical! You'll definitely be hearing more about her in the weeks to come.

Sincere thanks to all of you! And Happy Thanksgiving!!!
Love,
Erin

p.s. In January 2015, I'll be launching a new program, Living Joyfully 101. We'll explore ways of moving beyond our blocks and into a life of more joy. We'll look at the things that get in the way of living authentically, and we'll work with some amazing tools for moving past those obstacles and into living the life you want.

If this sounds like good clean fun to you, click on radiantenergyforlife@gmail.com and put "101" in the subject line. I will make sure you are among the first to hear more details!

Happy Thanksgiving!

Living Joyfully: Exploring the Upper Limits
by Erin Menut, November 20, 2014


Hello Friends,

Have you ever noticed how hard it can be to hang on to good feelings?

For one thing, our brains are hardwired to cling to unpleasant experiences (in order to analyze and avoid them) and designed to let pleasant experiences pass through. (Sad but true!)

To compound this conundrum, most of us have what's known as an "upper limits problem." When we experience good things, part of us is looking around suspiciously, waiting for the other shoe to drop. "Everything seems so good," we think to ourselves. "What's going to go wrong now?"

We inherited some of this from our ancestors, many of whom were driven out of their places of origin. "Don't get too comfortable," the memories in our blood whisper. "Don't even look too closely at what's wonderful, or let yourself feel too much of this good feeling you've got right now. Don't get cocky! In a moment, it can all be taken away."

Deep down, we feel the wisdom in our ancestor's warning. We know that no matter how good we have things, in the end, we can't keep it. In the end, we're all going to die.

How's that for living joyfully?

Well, the turnaround is, if we stop ourselves from enjoying life because everything is temporary, we stop ourselves from truly living. Then we wonder why we're not happy.

Children do not have this problem! They live in the now, and experience every feeling to the fullest, until we drudge it out of them. This may be why Jesus said that to enter the kingdom of heaven we must become like little children.

Even though everything in life IS temporary, that's no reason to turn away from it, or to limit our enjoyment of it in the now. The present moment is all that there is. Who am I to stop enjoying it, out of fear for a future that doesn't even exist?

Is your relationship with life limited? Do you make your life a problem to be solved and call that "responsibility"? Or is your life a gift to be savored? Could it be?

Is your joy limited? Or limitless?

In their book, Conscious Loving, Gay and Kathlyn Hendricks describe the "upper limits problem" as the only problem
we need to solve in order to enjoy, really and truly enjoy, our relationships – with life, and with each other. Of course, we all have our personal issues to work through. But the main thing blocking us from experiencing joy in the moment is the fact that many of us are so out of practice with it.

When we do feel things going right, that part of us that's looking around for what's about to go wrong will often, unconsciously, dredge up something for us to worry about or feel bad about. We might go around blaming our boss, or our partner, or our parents, or some event for our unhappiness, but in reality, we are the ones stopping ourselves from feeling good.

Let me say it clearly: we stop ourselves from feeling good. We place a limit on our joy. Unconsciously. Out of fear. That is the "upper limits problem."

Ready to stop doing that? Me too!

The first and most important step is to notice when you invoke the limit. Then, you can start to stay with the good feelings, the feelings of happiness, contentment, satisfaction, elation, just a little bit longer. We really can teach ourselves to thrive at the upper regions of enjoyment. It just takes a little practice.

I notice that I place limits on my enjoyment with my children by remembering what we need to do next. Maybe my daughter is snuggling with me. It is so sweet! But after a few minutes, I often say, we need to comb your hair. Or I call to mind some other "next-thing-to-do." Aha! It may be true that we have things to do, but my mental insistence on that "doing" is also a limit I am placing on our enjoyment of "being."

The good news? I can change that. And so can you.

I can hold an awareness of the things I need to do without using that awareness to squash joy.

When I was in my teens, I went through a period of depression, as many of us do. I used to tell myself that for every depth there would be a corresponding height. That still feels true for me. But I haven't always faced those heights with curiosity and enthusiasm. Many of us are no strangers to exploring the dark side. Could it be true, as Marianne Williamson says, that the light scares us more?

In Jin Shin Jyutsu, the energy work that I practice, we have a saying: "there is no upper limit to harmony."

No upper limit. That sounds like a fun practice to me! Are you in?

Namaste,

Erin

p.s. In January 2015, I'll be launching a new program, Living Joyfully 101. We'll explore ways of moving beyond the "upper limits problem" and into a life of more joy. We'll look at the things that get in the way of living authentically, and we'll work with some amazing tools for moving past those obstacles and into living the life you want. If this sounds like good clean fun to you, click the link to email me: radiantenergyforlife@gmail.com  and put "101" in the subject line. I will make sure you are among the first to hear more details!

Living Joyfully: Priority = Authenticity
by Erin Menut, November 7, 2014


Hello Friends,

Today I'm writing from the beautiful Red Mountain Resort in St. George Utah. It's a beautiful morning – clear skies, birds singing, fresh, sunny air. This is the view from my room.

I've always been kind of a shy person. But I am excited to teach this retreat, along with my friend Mary Johnston-Coursey. In the past, walking into a room filled with people expecting some kind of experience would have made me nervous. Today, I feel excited and energized, but not nervous.

In her book, The Gifts of Imperfection, Brene Brown talks about letting go of what other people think. A sure-fire way to start feeling very nervous and anxious is to feel like we have to "be" a certain way in order to please others. Letting go of what people think means, I have confidence in my offering. People will have their own experience with it – I can't control that. All I can do is be myself and share from what I know. Brene Brown calls this, showing up in our own authenticity.

When our priority is to please others, we'll always be running around and spreading ourselves too thin in an effort to gain their approval.

When our priority is to be authentic, we come back to the center of our own being.

There is ground there. I just need to show up.

Here I am. Here's what I've got. This is the real me. There's such a relief in that!

Today I have many priorities. I truly want all the retreat participants to enjoy an amazing time, and to get what they need from our experience together. I want everyone to feel safe, to gain insight, to find joy in their experience.

But my top priority is to show up as my authentic self.

I learned a great exercise from my coach Christine Kane for reminding ourselves of this priority. She calls it the "situation upleveler." For any situation you're about to go into, ask yourself:

1. Who do I want to be?
2. How do I want to feel?
3. What's my desired internal outcome?
4. What's the best case scenario?

I always want to show up as my authentic self. To me, that's calm, centered, and aware. I want to feel confident in my awareness, and connected with the people I'm sharing time with. My desired internal outcome is to feel that I have done my best. The best case scenario, is that we all have an amazing time.

And I wish this for all of you, too, today and always!

Namaste,

Erin

Living Joyfully: Telling the Microscopic Truth
by Erin Menut, October 30, 2014


Hello Friends,

One of the most important contributions to living joyfully is our ability to connect, meaningfully, with other beings. While we are taught addition and subtraction in grade school, most of us did not receive much education in understanding how to form and maintain meaningful connections with those around us. Through no fault of our own, we were not taught helpful ways of expressing and understanding our emotions, nor recognizing the messages behind the micro-sensations of joy, anger, fear, sadness, and excitement that naturally arise when sharing time with others. We tend not to notice these sensations, especially the negative ones, until they become blown out of proportion. And when this happens, we lose closeness.

My friend and Yoga teacher Peter Francyk often states that advancement in our yoga practice has nothing to do with fancy poses. Advancement in Yoga means greater sensitivity, greater subtlety in our awareness.

A key practice in Yoga, then, is noticing the sensations as they arise in the body.

In their book Conscious Loving, Gay and Kathlyn Hendricks also note the importance of recognizing tiny sensations, bringing clear awareness to them, and then speaking up about them. "Telling the microscopic truth," as they call it, holds a key to establishing and maintaining loving relationships. But first, we have to learn how to notice.

Sometimes, when I am looking at my beautiful daughter, I feel a tightness in my chest and my heart beats faster. This sensation could feel a lot like fear. But when I go into it with calm and awareness, I recognize that it is actually a feeling of intense love. It also has a twinge of grief at how quickly she is growing, and how much I cherish her childhood, and how sad I feel that the time is slipping by so quickly. It's painful!

This bundle of feelings could signal an impulse to run away from the pain of love. Yet the impulse to run away from closeness prevents us from deepening our connections.

In sitting with the sensation of love-grief-sadness-awe, letting myself feel it with total clarity, I can "lean into the sharp points" of the sensation. This leaning-into brings me into deeper connection.

By noticing the sensations, and really letting myself feel them, I train my body and mind to be able to handle closeness. I learn how to handle the intense emotions that closeness brings. This is a yoga practice.

The poet Rumi writes:

They way of love is not

The door there

Birds make great sky-circles

of their freedom.

They fall, and falling,

The door to the path of love is devastation.

Devastation.

Do you think you can love without being blown apart?

Never.

Lean into the sharp points.
Feel what you are feeling.
Tell the truth about it.
To your loved one, and most importantly, to yourself.

This will be a state of Yoga.
Bliss.
No matter how painful the microscopic truth.
Telling the microscopic truth will bring you closer into true connection, closer to experiencing your own divine being.
This is conscious loving.


Namaste,
Erin

Living Joyfully: Connection is Key
by Erin Menut, October 23, 2014


Hello Friends,

In the famous bestseller, Getting the Love you Want, Harville Hendrix and Helen LaKelly Hunt write, "restoring the awareness of our connection is the source of all healing."

They talk at length about the importance of connection, and how easy it is for us to lose our sense of connection with each other, and with the universe.

Connection is the key to getting the love you want, and connection is also the heart of Yoga. Yoga means union, connection. Between body and breath, between our ideal selves and our life circumstances, between so-called "mind" and body.

At root, our lives are about the creative tension between understanding and developing our authentic selves, and relating to others authentically through connection. Through relationship, we grow in our capacity for compassion, awareness, and authenticity, and we discover aspects of life, including our own being, that would otherwise remain hidden.

One of my favorite teachers, Peter Francyk, often emphasizes the short-circuit we take when we simply think of life and each other as "all one." It's simple to say "all is one" and think of unity and even relationship in that way, but most of us are far from experiencing this sense of oneness.

We may long to experience the sense of connection we think oneness would bring, but we continuously bump up against the actual otherness of the other. And, I think, a lot of the time we expect oneness to be the fruit of relationship – agreeing about everything, for example. And when that fantasy doesn't pan out, we feel disappointed and disconnected.

A better approach, Peter suggests, is to recognize our diversity, the wonder of creation, and acknowledge that we're all different, but intimately connected.

One-ness flattens everything out, while connection emphasizes the dynamic dance we experience when we truly approach and appreciate another being as other.

At Eponaquest, we work with the horses in an exercise called "Exploring Connection." The most eye-opening aspect of this experience is the recognition that connection does not always happen in the way that we expect. Our unconscious assumptions about what connection must be in order to be "real" and authentic, come to the surface to be examined, explored, and tested against the reality of connection in this moment.

Connection is the key to getting the love you want. What does connection look like to you?

Namaste,
Erin

p.s. In just two weeks I will be co-teaching a November retreat at Red Mountain Resort with Mary Johnston-Coursey. The topic? Awakening the Energy Body. The practices offer us a way back to ourselves, by connecting us to our total being, inner, outer, and beyond. We still have a few spots left! Scroll down for details…

Living Joyfully: Beauty and the Beast
by Erin Menut, October 16, 2014


Hello Friends,

Beauty and the Beast has a place in my heart as one of my most beloved fairy tales.

My five-year-old daughter recently went through a phase of fascination with the opening "legend" of the prince's transformation into a beast, where she asked me to re-tell it over and over again.

She could feel the deep magic in it.

Once upon a time, there lived a very handsome, but very haughty prince. One cold winter night, a lonely beggar woman appeared at the door of his castle, asking if he would kindly allow her a place to spend the night. The proud prince refused. Once again the old woman asked, offering, in return for his generous hospitality, a single rose. Again, the prince scorned her request. He laughed at her ugliness, and turned her away into the cold, winter wind.

Suddenly the old beggar woman transformed herself into a beautiful and powerful fairy. She laid a curse upon him, that he should live his life as a beast, so that his appearance on the outside would match the ugliness within his own heart.

The prince fell to his knees and begged forgiveness, but it was too late. The curse could only be broken if the prince could find true love before his twenty-first birthday. If he could not find true love, he would be condemned to live as a beast, forever.

And so it begins.

Lately, I've been meditating on the plight of the beast.

Suffering under the curse that he had brought upon himself, he destroyed every mirror in the castle, unable to face the ugliness of his own being, and utterly ashamed of the behaviors that had led to his curse, which were now completely and agonizingly present to his awareness.


We all face a time in our lives when we come face to face with our own failings, our own ugliness. And like the beast, we have a choice: to live, unrelentingly, in our old patterns of hatefulness and pride, choosing to be right. We can choose to lock ourselves away, alone with our self-loathing and hardness of heart.

Or we can choose to allow love into our lives.

Others show up as mirrors for the self-love we deny ourselves. As Belle showed up for the beast. And through their presence, through their teachings, we have an opportunity to regain our humanity, to be humble, to experience love.

It's a rare treasure to find someone who will sit with us in our own ugliness, and help us process and find our way back to wholeness. To find someone who sees the beast, and also the beauty inside the beast.

Ultimately, its a journey we have to take alone. To make that commitment to ourselves even in the midst of our painful unraveling takes courage and humility, and trust that things can and must improve.

As Brene Brown discovers in the Gifts of Imperfection, taking such a journey is messy, time-consuming, and just plain hard work! There is no guarantee of who we will look like, and how our lives will unfold, on the other side of that transformation.

But it's still worth it!

The ancient fairy tale holds a special key: the things that we despise are there to offer us a way back to the wholeness of our hearts. But it's up to us to make that journey.

Namaste,
Erin

Living Joyfully: Making Now the Best Time
by Erin Menut, October 9, 2014


Hello Friends,

In A New Earth, Eckhart Tolle describes the difference between inner purpose and outer purpose.

Our outer purpose can take many different forms: raising a happy family, pursuing our career, volunteering with organizations whose mission we support, and so on.

Our inner purpose is always the same: to awaken to the present moment.

If you ask your mind, "is 'now' the best time of my life?" your mind will almost certainly say "no." I can remember a time that felt happier. I can imagine having more fun in the future.

This is because our "thinking mind" can only find material to grasp onto by searching in the past or the future. Our thinking mind feels little at home in the now.

But here's the thing: Now is the only real time.

Imagining that our happiness has already occurred in the past, and is now gone, will lead us straight to depression.

Fantasizing that our happiness will only be found in the future and that we need to hurry up and get there will only lead to frustration, anxiety, and stress.

Anything that takes us out of the NOW cuts us off from our power and our connection to what is real.

So you can see why so many of us feel disempowered, struggling with depression, anxiety, stress.

The belief that "now" isn't good enough to be the best time is not only a function of our thinking mind, which seeks to flee from the present experience, but of the fast pace of our culture, which gives us little time to ground, breathe and be present. Our commodity culture depends on us believing that if we just buy something or do something different, we can get to a future time that is better than now.

Grounding, breathing, and being present help us feel at home in the now, the only time that actually exists.

It takes a conscious commitment to ourselves to do these things.

I've been making it a conscious practice lately to say to myself,

"My purpose is to be alive to this moment."

Whether I am sitting in my chair, or driving, or reaching for my toothbrush, or talking with a friend, whatever I am doing right now, I can say,

"My purpose is to be alive to this moment. My purpose is what I am doing right now." 

It's amazing how powerful a quality of awareness you can bring to what you're doing, right now, when you choose to show up and "be" in this way.

Affirming the inner purpose – to be alive to this moment – makes any outer purpose we engage in much more rich and alive too.

Because every action we take, every great and complicated plan we get involved in, is made up of these tiny moments, "now," each of them occurring as a succession of "now."

Being alive to the present moment. This is what it means to make Now the Best Time.

Namaste,
Erin

p.s. I will be co-teaching a November retreat at Red Mountain Resort with Mary Johnston-Coursey. The topic? Awakening the Energy Body. We'll experience the inner body using sensing awareness – a wonderful way to practice making NOW the best time. Consider joining us! Visit the Retreats page for details…

Living Joyfully: The Gift of Mistakes
by Erin Menut, October 2, 2014


Hi Everyone,

Every year I make mistakes.

I'm not talking about tripping on your shoelace.

I'm talking about the real doozys.

One year, when Avenues Yoga had only been open a short time, I brought in a renowned teacher from out of state and fronted his salary, with the expectation that enough students would come to his workshop to cover it.

Nope.

I vowed never to do that again.

But a couple of years later I got into a very similar situation because of a miscommunication with a co-sponsor. Again, I paid.

Oops.

This year, I was so certain that I was moving to San Diego I shipped all my things there on a big moving truck.

Today, thousands of dollars later, the truck and I are reunited, home in Vermont.

When I look back on my biggest mistakes each year, I balance the pain of growth with a sense of gratitude.

In this process, Ralph Nader has a saying that really speaks to me.

My biggest teacher is my last mistake.

The pain of making a mistake can provide a great wake-up call for the soul. When you stop to look at what you're doing, and to see how things went wrong, an opportunity for learning and growth opens up.
With any "mistake," we have an opportunity to reflect on our actions and learn from them. In the case of my mistakes, I can look at the patterns of action that led me to lose money and make better choices in the future.

It is said that you learn more in ten days of agony than in ten years of contentment.

Of course, if I had to choose, I would take the ten years of contentment. At least I imagine I would.

But when we are living vibrantly, and taking chances on making connections with people and living to our fullest potential, we will certainly make "mistakes."

So if you're out there feeling discouraged, as I do too at times when I look at what's gone "wrong," remember this:

Mistakes are a necessary byproduct of any journey worth taking.

They're messengers that help point the way to our highest good. And, in that sense, they come in the interest of our highest good.

If we sit back for fear of making mistakes, we'll never taste the adventure of life.

"It is not the critic who counts; not the man who points out how the strong man stumbles, or where the doer of deeds could have done them better. The credit belongs to the man who is actually in the arena, whose face is marred by dust and sweat and blood; who strives valiantly; who errs, who comes short again and again, because there is no effort without error and shortcoming;

but who does actually strive to do the deeds; who knows great enthusiasms, the great devotions; who spends himself in a worthy cause; who at the best knows in the end the triumph of high achievement, and who at the worst, if he fails, at least fails while daring greatly, so that his place shall never be with those cold and timid souls who neither know victory nor defeat." – Theodore Roosevelt

Namaste,
Erin

p.s. I will be co-teaching a November retreat at Red Mountain Resort with Mary Johnston-Coursey. The topic? Awakening the Energy Body. We'll be doing A LOT of scrumptious clearing. If you're ready to release some old patterns on a deeper level, consider joining us!
Email me for details: radiantenergyforlife@gmail.com

Living Joyfully: The Simplicity of "As Is"
by Erin Menut, September 25, 2014


Hi Everyone,

"Your task is not to seek for love, but merely to seek and find all the barriers within yourself that you have built against it." -Rumi

In The Gifts of Imperfection, Brene Brown shares a profound discovery from her research:

There is only one thing that separates men and women who feel a deep sense of love and belonging, from those who don't:

A belief that they are worthy of love and belonging.

As is.

In other words, if I don't feel a sense of connection, love and belonging in my life right now, on some level, then it's highly likely that I'm holding a belief that I am not worthy of love and belonging.

As is.

And if I do feel a sense of connection, love and belonging in my life, right now, then I must be holding a belief that I am worthy of love and belonging.

As is.

How many obstacles do we put up in front of our own worthiness, our lovability, as is?

How often do we say to ourselves, "I need to get to yoga practice more." (Because then I would feel more fit and centered and therefore more worthy of love and belonging?)

Or, "I need to lose 5 pounds, or gain 5 pounds." (Because then I would be more attractive and therefore more worthy of love and belonging?)

Most of us have a kind of lurking, personal "do" list that thrives on the underlying belief that we need to do something (preferably yesterday!) in order to be more worthy of love and belonging.

Our whole commodity culture feeds on this unhappy belief.

But most of the barriers that we hold against accepting ourselves, "as is," come from the inside. They hide inside the belief that some part of our story should not have happened, or should not be happening, or is not acceptable in some way.

The barriers to love persist in the feeling that things have to change in order for us to feel happy.


(Our house needs to be cleaner; we need different clothes; we need someone else to change their ways; we must accomplish something more; some injustice must be made right, etc.) And until things do change, the whole game is under protest. "As is" is never good enough. We object fundamentally to life – or some aspect of it  – as it is.

This is the state of mind that most of us carry with us throughout each day. This state of mind maintains a barrier against being present. It maintains a barrier to love, to worthiness, to feeling whole.

The benefit of
a good Yoga or Chi Gong practice is that it helps remove these barriers. Such is the power of the exhale.

Let me say it again:

A good Yoga or Chi Gong practice helps remove these barriers.

It removes the barriers to love.

Such is the power of the exhale.

Nature itself holds up a clear mirror of "what is." Through our rejections of part of our story, through our inner protest of the way things are, we cloud the mirror of the present moment. We can't even see it at all, let alone enjoy it.

That's why one of the number one bestsellers of Yoga books is simply entitled, "Be Here Now." The whole practice is summed up in that title. Be. Here. Now. It sounds so simple, and it is true that it is simple, and anyone can do it. Yet how many barriers we place, consciously or unconsciously, against simply showing up in the present moment, clear and aware, as is.

Today, won't you join me in a simple practice?

Inhale.

"Inhaling, I breathe in awareness of the present moment, as is."

Exhale.

"Exhaling, I release the barriers to love."

Affirmation:

Today I show up, AS IS. And totally worthy of love and belonging.

Namaste,
Erin

p.s. I will be co-teaching a November retreat at Red Mountain Resort with Mary Johnston-Coursey. The topic? Awakening the Energy Body. We'll be doing A LOT of scrumptious clearing. If you're ready to release some barriers on a deeper level, consider joining us!
Email me for details: radiantenergyforlife@gmail.com

Living Joyfully: a Step back into Warmth and Kindness
by Erin Menut, September 18, 2014


Hi Everyone,

I took the kids apple picking at Vermont's own Chapin Farm yesterday. They had so much fun climbing on the old tractor (with lots of mama help) and picking apples. At one point, my little boy, Aiden, kept cheering, "happy! happy!" as he chased his sister down the grassy lane between the old trees.

After just returning to Vermont from a whirlwind visit to Salt Lake for teacher training last weekend, I can't claim to be feeling an unqualified "happy!" Instead, my heart feels more full than ever right now.

I said a lot of goodbyes on that trip. And now I'm grieving for the things I let go of, in ways I never expected.

Pema Chorun advises, "Lean into the sharp points and fully experience them. The essence of bravery is being without self-deception."

Today I lean into the exquisite and painful joy of watching my beautiful children grow up, right before my eyes.

And today I lean into the pain of realizing how my actions have caused suffering to myself and others in ways I never intended. Yet this too is, "what is."

It's all a part of what is.

In choosing to look at that, and "lean into it," rather than ignoring it or shoving it away, I hope that I too am growing up, right before my children's eyes.

Ava broke a branch at the orchard. I held her up so she could see it.

"When we come back to the orchard next year, I told her, this branch will not be here."

As she started to cry, I also told her: "But the tree will survive, and the orchard will survive."

As I struggle with finalizing my divorce (which I chose) and with truly letting go of my old life (which I also chose to do), I can step back in warmth and kindness toward myself for the part of me, and the part of my life, that feels like the broken branch right now.

I can look at what's broken and say, "I did this."

I humbly accept responsibility for my thoughts, words, and deeds,

And I can still honor the higher calling that led me to make the choices I've made. I still trust them and believe they are good. The tree will survive. The orchard will survive.

Marilyn Monroe says, "sometimes good things have to fall apart for better things to fall together."

While that's my wish, it's still a crucial practice of love to step back into warmth and kindness and feel the grief of what's been lost. To feel compassion for the part of myself that is grieving.

When we honor our feelings with loving-kindness, we raise our level of compassion for all who suffer, as we all do, at times.

To me, living joyfully is as much about leaning into the sharp points as it is about feeling the high points and the sun on our faces. Without understanding and experiencing the dark, how can we honor and welcome the light?


To me, living joyfully is about what Brene Brown calls "owning your story." Having the courage to look at your own story and learn all you can from it. Only then can we move forward in freedom, reinventing ourselves along the way and welcoming the blessings that are yet to come.

I expect there is a little part of each of us that feels like a broken branch at times.

And at the same time, there is a little part of each of us that can take in the sunshine and the shadow, and still run through the green world cheering "happy! happy!"

This I believe.


Namaste,
Erin

p.s. I'm leading a Fall online Book group featuring Brene Brown's Gifts of Imperfection. It's not too late to join us. See the article below or email me for details: radiantenergyforlife@gmail.com

Living Joyfully: Radical Acceptance and the Tiny Crusader
by Erin Menut, September 11, 2014


Hi Everyone,

One of the primordial sources of suffering is the feeling of non-acceptance of WHAT IS.

The feeling of rejecting what is happening, or what has happened.

We all have this part of ourselves that sits back in judgment over the events of our lives. We look back on some events and think,

"That was great." "I'm glad that happened."

With other things, the not so nice ones, that same part of ourselves reacts with rage and hurt, for ourselves or others:

"That should not have happened!" "This can't be happening." "This is wrong." 

During a recent call with my mindset coach, she led me through a meditation in which I listened as she said (among many other things),

"All of 'this,' all the things that have led up to this moment, happened…
And they are over…
I accept that all of this (i.e. the past),
happened."

It was amazing to experience the inner resistance that flamed up in me as I listened, and different memories flooded through – even though I know that I cause myself suffering by not accepting WHAT IS.

I realized that in spite of my "knowing," there is a tiny voice inside of me that still objects to some of the events in my life.

There is a little voice that says "NO!" to some of the things that have happened to all of us.

And I feel that on a totally visceral level.

I've come to think of that little voice as my tiny crusader. And I am glad she is in there, in me, and probably in you too, standing up for what we believe is right, and what we believe should, and should not, happen in this world.

But at the same time, it became clear to me how easy it is to feel split off from LIFE by objecting to what is.

Because WHAT IS, is life.

So I found a way to step back into warmth and kindness, which is a skill I learned from my dear friend Erin Rabke, and one that is central to my meditation practice, and to my 30 Days of Affirmation program.

I promised my tiny crusader that we would still work together, and even fight, if necessary, to stand up for what we believe in. That little voice matters.

But I also acknowledged that no matter how much we may have wished that some of the things we've all been through had never happened, they did happen.

They happen to all of us.

Collectively, and individually, we all share in the joys and ravages of LIFE.

I accept that everything that has happened, happened.


This doesn't mean that I wanted all of those things to happen. It doesn't mean I don't grieve for the loss of loved ones. It doesn't mean I'm not angry about the hurts. It doesn't mean that I wouldn't have prevented some things from happening, if only I could.

It simply means that I choose to stand on the solid ground of WHAT IS.

From that ground, from that acceptance of LIFE, I can choose to move forward on my personal path with a sense of inner unity. Tiny crusader and all.

We have all experienced hurts, anger, betrayal, trauma, either personal or collective.

It seems like a miracle to me that we can go through so much.

Seeing your faces in my mind, I am in awe of the miracle of LIFE, of what each heart can hold, of the courage and dignity of my fellow human beings. We all have this capacity, this potential.

We share in the common experiences of LIFE, and the inner light that gets us through it is the same in all of us.

(By the way, that is the meaning of NAMASTE: the light in me recognizes and honors the light in you. It is the same, beautiful light.)

I am thinking today of a favorite poem by Gerard Manley Hopkins. Whether you think of "God" as that old fellow in the sky, or as Mother Nature, or simply as WHAT IS, I love the way this poem affirms LIFE.

In one of the lines, Hopkins writes, "And for all this…"

I think he means, for all that has happened, for the entire legacy of the past, for all we've been through, for all we've done and failed to do, "for all this," he writes, "and for all this, nature is never spent."

Nature is never spent. LIFE IS.

Today I accept that everything that has happened, happened. And I move forward from that strength, with humility, courage, and AWE.

"The Grandeur of God"

The world is charged with the grandeur of God.

It will flame out, like shining from shook foil;

It gathers to a greatness, like the ooze of oil

Crushed. Why do men then now not reck his rod?

Generations have trod, have trod, have trod;

And all is seared with trade; bleared, smeared with toil;

And wears man's smudge and shares man's smell: the soil

Is bare now, nor can foot feel, being shod.

And for all this, nature is never spent;

There lives the dearest freshness deep down things;

And though the last lights off the black West went

Oh, morning, at the brown brink eastward, springs –

Because the Holy Ghost over the bent

World broods with warm breast and with ah! bright wings.

Namaste,
Erin

Living Joyfully: On Having and Not Having one's Things


Hi Everyone,

As some of you know, I'm in Vermont now with my family, even though I had planned to move to San Diego.

In fact, I was so sure I was moving to San Diego that I shipped all of our earthly possessions there in a moving pod.

It's still there.

So I only have the things I packed in a small suitcase, 42 days ago, on July 24.

I've been joking about this with my mother as I appear again each morning wearing the same pair of jeans and old pink sweatshirt. I only packed one pair of jeans, and it is mucho mas frio in Vermont than San Diego.

"It's my uniform" I tell her.

There's a saying attributed to Andy Warhol: "if you want to be remembered, always wear the same clothes." He also recommended wearing the same clothes so you could be certain people were liking you for yourself, and not your clothes.

So I guess I'm good on both counts.

Since I never have to spend time thinking about what to wear, I've had some free time to muse about my attachment to my stuff.

On the one hand, when I think of the hassle of getting it all shipped here, I imagine that I would prefer never to see any of it again.

On the other hand, almost every day I think of some little, or big thing, either for myself or the kids, something that's missing, and I remember, oh, it's in the pod, and I feel like some little part of me, of our lives, is missing too.

It's a slight feeling of diminshment, even disorientation. I imagine it's like feeling a phantom limb. I reach for something, and it isn't there. I think of people who have lost everything in a fire or other disaster, and empathize. The felt sense is, there's a way I can't show up because I don't have that particular thing.

In A New Earth, Eckhart Tolle writes about our attachment to things.

We all have it.

We all like our stuff.

He writes about a woman nearing the end of her life who freaks out because she loses a precious ring. He asks her, do you realize that soon you will have to let all your things go? Are you diminished in your being because you don't possess it? Can you ever, really possess it?

She wrestles with these questions, as most of us would.

Obviously the correct answer is "no." My being is not diminished because I don't have my things.

But it has been "fun" (fun?) to watch my own discomfort arising with this, in daily experience.

Can I really, really FEEL the sufficiency of my being? My enough-ness?

Can I help my five-year-old daughter really feel that she has enough toys, even though some are missing?

In a commodity culture, where every look from another person sizes you up, can I show up, again and again, in "my uniform" and feel that I am enough?

…

I've come to feel that many of my things help me show up, not in my essential being, but in my image or persona.

This can be fun (yes, fun!) But it isn't necessary. There are other ways of enjoyment.

So now, today, I'm cultivating the practice of showing up, for myself, in the enough-ness of my being. Regardless of what I'm wearing, regardless of whether "my stuff" arrives any time soon.

I don't really need anything but awareness to feel my connection with being, with life energy, with WHAT IS.

We are all an essential part of that, inseparable from what is, totally connected and one with being at all times no matter what.

Today I show up in the sufficiency of my being. Just me. Enough.

Namaste,
Erin Menut

To keep receiving "Living Joyfully" in your inbox,
 add radiantenergyforlife@gmail.com to your safe senders so emails go to your inbox rather than your social media file.


Living Joyfully: Thoughts on Homecoming


Hi Everyone,

The kids and I have really been enjoying visiting Grandma and Grandpa in Vermont. In fact, we like it so much we've decided to stay. (I knew this would happen.)

In the mornings, I've been sitting on the front porch, watching the sunrise sparkle the dew on the lawn, sipping my coffee, and reading Brene Brown's Gifts of Imperfection. This really resonates with me:

Let go of who you think you're supposed to be, to become who you truly are.

My body, my being, loves being home in Vermont. But my mind has struggled. A lot.

"But I told people I was moving to California!"

"But I had this other idea – my plan!"

It is funny how strong these thoughts are. How obligated I feel by the plans I made for myself (don't worry – I am still doing my Eponaquest Apprenticeship).

Yoga teaches us: My thoughts are not ME.

I can observe these thoughts coming and going. There is a deeper and wiser aspect of my being.

This wiser part of all of us has little to do with "thought" and more to do with deep knowing.

My thoughts tell me I "should" be the person following the plan I thought up.

My wiser being knows who I am.

My wiser being knew I was coming home.

I look out on the lush, green landscape, feel the tinge of fall in the air, and listen to the deep, quiet spaciousness of the trees and the sky.

Let go of who you think you're supposed to be, to become who you truly are.

My wiser being knows that I am no less because of a change of plan.

My being is not diminished or disturbed by change, by challenge, by hardship. It simply is what it is.

The poet, Mary Oliver, writes from this place of knowing, of deep being-awareness. She says:

You do not have to be good.
You do not have to walk on your knees
For a hundred miles through the desert, repenting.
You only have to let the soft animal of your body
love what it loves.
Tell me about your despair, yours, and I will tell you mine.
Meanwhile the world goes on.
Meanwhile the sun and the clear pebbles of the rain
are moving across the landscapes,
over the prairies and the deep trees,
the mountains and the rivers.
Meanwhile the wild geese, high in the clean blue air,
are heading home again.
Whoever you are, no matter how lonely,
the world offers itself to your imagination,
calls to you like the wild geese, harsh and exciting —
over and over announcing your place
in the family of things.

I watch the dew shine with a thousand fleeting colors.

I sip the warm delicious coffee and feel the life-affirming heat of the cup in my hands.

A cup made of clay by other hands and tempered in the fire so that it too could arrive at this moment. Pure in its being. Present. Whole.

Could it be broken?

Yes.

And yet here it is. Home on grandpa's porch.

Namaste,

p.s. Maybe you want to read The Gifts of Imperfection too?
I'll be leading a Fall online Book group starting this September.
Email me for details…  radiantenergyforlife@gmail.com

Living Joyfully: a Rare & Precious Flowering
by Erin Menut, August 21, 2014


Hi Everyone,

In A New Earth, author Eckhart Tolle writes about the blossoming of a flower as a kind of "enlightenment -" the plant's transcendence of it's ordinary growth and foliage into something rare and precious – and totally different from the plant's usual, every day being.

Tolle explains the "flowering" form of enlightenment as a metaphor for our own journey into broader consciousness. We all have moments of insight, in which our ordinary consciousness recedes and we experience a kind of lightness, a happiness, that is hard to explain. 

When I watch my children playing, sometimes, or when I remember the kindness of a dear friend, I feel a wave of love wash over me that can even bring tears to my  eyes.

This feeling is totally different from "thin
king about things," our ordinary experience of consciousness. This fleeting, transient, flowering of feeling awareness is the highest and best part of ourselves.

In a flowering of consciousness, we experience the present in pure form. We aren't "in our story," churning up our usual dramas. We're just experiencing the moment. We're experiencing love.

And it feels mind-blowingly good.

Which is why it is so important to cultivate our feeling awareness, and our sensitivity toward what is good, and precious, in the moment. Our life is made up of these tiny moments, and most of us are missing it.

Usually, we are too busy living up in our heads – worrying, planning, being irritated, stressed – too  crazy-busy to get to this more refined, more spacious awareness.

Children already live within this spacious awareness, until our time-driven culture begins to force it out of them.

Children experience the present moment from a perspective of wonderment. They notice tiny miracles in a landscape that seems mundane to adult eyes. Yet there is nothing mundane about it. Beauty, flowering, enlightenment, wonder, is all around us, and inside of us as well.

At heart, the practice of Yoga helps us expand our consciousness into the present moment, and helps the present moment expand into a great spaciousness. As that great Guru Jesus advises, we become like children, and in doing so, open up to experience heaven.

I love Eckhart Tolle's image of a flower in describing this blossoming awareness.

We're practical people, most of the time. We like to know what were going to have for dinner tonight, and how much money we have in our bank account. We like to make plans, and feel that they have a root in solid ground.

The image of a flower reminds us that the best part of ourselves often finds expression in very delicate, ephemeral feelings and insights.

This doesn't mean we should act on every fleeting impulse.

Rather, it's a recognition that while our personal growth does depend on deep roots, its flowering into being may be delicate. Its rationale may be beyond words.

The refinement of our inner beauty, our personal gifts, into form will look nothing like what has come before.

Like a child, our gifts are an offering to the world that has never been seen before.

This week, I'm overcome with gratitude for the friends who support and encourage my growth. I hope you have friends like that too!

The poet, Hafiz, writes:

"How did the rose ever open its heart and give to this world all its beauty? It felt the encouragement of light against its being, otherwise, we will remain too frightened."

I also encourage all of us to take time – to make time – to notice the beauty all around us, all the time, especially in the smallest things.

Namaste,
Erin

A little note about what I'm up to:

My new adventure is called Radiant Energy for Life. And all the programs I'm offering revolve around this central theme:

We all have a radiant light within. It can become dimmed, or distorted, through life experiences that bring us down in some way. But no matter what we have been through, our inner light is always there, and our inner beauty is always capable of flowering. It might just need a little encouragement.

With a little encouragement, we can become like children again. We can flower. At any age.

This September, I'll be leading a powerful retreat called Straight from the Heart. There is still a little space if you want to join us!

(For better or worse, the kids won't be there (:>)

You can still get in on the Early Bird Special: click here to register today!

Or email me with any questions: radiantenergyforlife@gmail.com

Cheers,
-Erin

Living Joyfully: Rain & Fear & Curiosity


Hi Everyone,

Yesterday I took little Aiden, my one-year-old, on a slow drive to help him get started on his nap.

He does not like to take a nap.

(He has F.M.O. – Fear of Missing Out.)

But if he does not take a nap, then nothing is fun. We call that a catch-22.

So yesterday we enjoyed a long drive, on a beautiful, soft rainy day in Northern Vermont, where I am visiting my family. And as I drove slowly over the old dirt roads, listening to the sound of rain on the car roof, I thought to myself,

It really is a perfect day for a nap.

But as it turns out, the sound of the rain, familiar to me from my childhood, seemed strange and foreign, even dubious to my little son. The varying intensity of the rain gave rise to curiosity, and each turn of the road gave him something new to gaze at and wonder.

Aiden felt secure enough, because we were together, but I could tell that he was actually a little afraid of the rain.

Buddhist Pema Chodrun says that when we encounter fear we should be grateful.

Fear helps us remember that, in truth, absolutely nothing is permanent. Absolutely nothing is dependable. Everything changes.

So, Chodrun writes, this awareness is more realistic.

I watched the rain blur the horizon, as waves of thick mist twined their way through the trees and over the fields.

Reflecting on Pema Chodrun's words, I realized that I found the rain comforting because it seemed familiar. But really, that rain had never fallen before and will never fall again in exactly the same way.

My son's reaction to the rain: curiosity, wonder, even a little fear, may have been a little more realistic than mine, and certainly more conducive to a life of awareness.

This morning my friend Erin Geesaman Rabke quoted a question from Scott Morrison in her newsletter:

"Do I wish to live this moment with as much attention, care and affection as possible? Or am I going to do something else?"

Would it be better to close our eyes and sleep through this? Or sit with it, and really take it in?

Like little Aiden, I have been living in a world of transition lately, having left behind the comforts of my familiar home to travel and find new ground for my new work. And like my little son, I have been experiencing fear at times. Wonder. Curiosity. Wakefulness.

Rumi urges us to welcome all of these feelings with compassion.

Even fear.

Every living thing experiences fear.

Today I ask for the compassion to be with the fear as it arises. Knowing there are many in the world right now suffering in ways far deeper than we can imagine.

From the sound of rain on the roof, to the atrocities of violence occurring in the Middle East, the challenges we all face range from the "simply" unfamiliar to the unthinkable.

Today I ask for the courage to live this moment with as much attention, care and affection as possible.

I ask for the patience to help the little ones sleep, when sleep is due, and for the energy to do the work I came here for.

I am grateful for everything that helps me live with awareness – even fear – and grateful for everything that helps me live.

With gratitude,
Erin Menut

Living Joyfully: Sanctuary

Hi Everyone,

<

So, I have been traveling with the kids for more than two weeks now – what an adventure!

<

We've been at the ocean, and we went to the San Diego zoo too. (They have good ice cream there!)

<

This week we're in Vermont visiting my parents.

<

I miss the studio and all my dear friends in SLC. I'm looking forward to coming back for my 

September retreat

.

<

I hope you all are continuing your practice. It's much easier to ground when you actually have some ground to call home. That's one of the things I have always loved about Avenues Yoga: the feeling of sanctuary we enjoy there.

<

Now that I am "home" in Vermont I can really recognize the stark contrast between all the traveling we've been doing, and the feeling of really being somewhere you can call home.

<

I grew up here, and everything is familiar.

<

Every inch of the land, every curve of the old dirt road, the trees, the contours of the rolling hills. I can tell Ava the names of the flowers and trees as she reaches out to touch them with her little hands.

This is mountain sumac. 

This is Queen Ann's Lace.

<

My family has lived here for generations. When I am here, I feel I can breathe more deeply. It's like the land itself has "got my back." I know the faint zingy sound of the grasshoppers, the background noise that accompanies us all day long this time of year. I know the sound of the raindrops on the roof, the breeze ruffling the American flag hanging from my parent's big front porch.

<

I felt this way at the studio too. Each brick has a place in my mind. They make patterns I know by heart from years of teaching there. I know every stone and leaf of the garden.

<

Sanctuary.

<

The word comes to us through Medieval French sanctuaire, from Latin sanctus, meaning holy. Holy places provided refuge for fugitives – no one was allowed to persecute them on holy ground.

<

When we feel at home, we can unwind and relax in a way that's simply impossible under other circumstances. I'm realizing more than ever now how important it is to cultivate that feeling.

<

We can arrive at a feeling of sanctuary by really opening our senses to take in a full feeling of the place we are.

<

So often, we go through our days rushing and hurrying from one place to another, never feeling at home. Sometimes, we rush around precisely because we do not feel safe or at home, not realizing that the act of slowing down, in itself, can be one of homecoming.

<

Namaste,

p.s. If you'd like to cultivate the feeling of sanctuary, consider signing up for my next retreat "

Straight from the Hear

t," September 19-21 in Woodland Utah.

<

AND, if you want to receive "Living Joyfully"in your inbox, please click the email live link below. You'll also want to add radiantenergyforlife@gmail.com to your safe senders list, so these emails go to your inbox rather than your social media folder.

Living Joyfully

by Erin Menut ~ July 10, 2014

"One thought can create, one thought can destroy"

-Dae Yong Kim

I always thought he was exaggerating.

But last week, as I was working with a Jin Shin Jyutsu client, something magical happened.

She came in with a lot of back pain, and I could tell right away that there was a lot of energy locked up in her lower back.

After working with a powerful flow for some time, and not feeling as much progress as I was hoping for, I decided to try something unorthodox, and combine a technique we use at Eponaquest.

I asked her to breathe into the area above her injury, sending it oxygen and awareness, and most importantly, loving kindness. The instant she began to do this, I felt a surge of tingling energy in my hands, which remained on her back the whole time. Her pain diminished, and energy started to flow.
I next asked her to ask that area of her body if it had a single piece of information that would be helpful to her in moving forward.

As she breathed into the area and invited a message to come into her consciousness from her lower back, she received a very sweet reassurance that her injury would heal.

As this soothing thought bubbled up from her body into conscious awareness, a great sense of peace came through to both of us, and a lot of the fear that had been stuck in her lower back began to fade away.

She told me later that she had been fighting her injury, holding onto  a lot of fear and anger, and bracing herself against it.

In other words, her conscious mind had been at war with her body.

We both felt a sense of awe at the power of simply breathing into the focus area, and – most importantly – sending loving kindness there.

To me, this profound experience came as a much needed reminder of the power of our thoughts to generate disharmony, or to bring peace, whether that peace takes the form of physical well-being, mental relief, or spiritual enjoyment.

Our thoughts have incredible power, and can change our lives, determining our happiness or unhappiness, as we walk our path.

Nischala Devi, who trained me in Yoga Therapy, always advised her patients: "find a doctor who loves you and believes you can get better."

Because the power of thought is so strong.

If you find yourself blocked by negative thoughts, attitudes, anger and fear, try sending some loving kindness to where it is most needed.

There is no stronger power in the universe than loving kindness to change our reality for the better.

Erin Menut
Founder, Radiant Energy for Life

Living Joyfully

by Erin Menut, May 8, 2014

In the martial art I practiced, we had a saying:

Action Cures.

When you're feeling stuck or unsure, it's good to take stock of all your options. But after a while, hovering in this reviewing mode begins to take its toll.

New vistas only open up when you take steps toward them. When you never take those steps, you're left with the same old view you've always seen.

Taking action doesn't ensure success, but neither does staying stuck. When we're willing to be imperfect, we rise to the challenge of moving forward in the direction of our dreams. Then, if we need to change course, we can do that along the way.

When you're not taking action, you can't change course, because, well, you're stuck.

For example, if you've always wanted to start or deepen your yoga practice, but you never take action toward that, it will never happen. But if you take action on that dream and try a new class, at very least you will discover whether you like that class or not. You can adjust your course accordingly.

Whatever your hopes and dreams may be, know that YOU have the power to take action  toward them.
You are the one who can step up and say YES, I want this dream to become reality.

I was looking at a poster with my four-year-old daughter yesterday. It said, "Strive: When you accept hard work, your wildest dreams can come true." Ava asked me, "Mama, what does that mean?"

I told her:

"I believe that when you step up and put some energy into the things you're passionate about, the universe supports you."

She replied, "Mama, I'm ready to step up!"

Are you?

See you in class!

Erin

Living Joyfully

by Erin Menut, April 24, 2014

Hi Everyone,

Wow – I am loving this spring energy. Are you loving it too? We have so many sweet reminders this time of year (between the sneezes) of the deliciousness of being alive. When I smell the lilacs blooming, I'm reminded every day that the essence of our breathing practice in Yoga is ENJOYMENT.

(This is me and my daughter Ava enjoying the lilacs)

Some people think of Yoga as hard work, (and it can be). But what it's really about is freeing us up to ENJOY OUR LIVES more fully. When we have a habit (sometimes called a practice) of gently moving our bodies in all different directions, we open up the circulation of life-force energy throughout our whole being.

Whether we want to think about this energy as actual circulation of blood, lymph, and oxygen, or more magically as "the force" or prana, the end result is the same. We FEEL BETTER. We feel YOUNGER, more vital, more ALIVE.

When we practice balancing, we improve our balance for a lifetime. We're steady. Even in difficult situations.

When we practice breathing, we deliver oxygen, prana, LIFE FORCE ENERGY throughout our whole being. We add healthy years to our lives. We're more present with our LOVED ones (including ourselves. Yes, that is possible!)

The essence of all these practices is ENJOYMENT.

We move and breathe in ways that help us recapture the youthful enjoyment of being ALIVE.

Plus it is just FUN to practice together. In a world where we're increasingly cut off from one another through the fast pace of life, it's so nice to come together and move and breathe in connection with the life force of the planet. We are CONNECTED to this sweet spring energy. And when we're practicing we really FEEL it. Ahhh.

See you in class!

Erin